Iran and Russia have held an opening ceremony for Phase 2 of the construction of the Bushehr nuclear power plant, in which two more 1,000 MW reactors will be added at the site, while six more are still in the pipeline.
Phase 2, which was launched on Saturday, will add two VVER-1000 reactors to the one already operating in Iran.
Their design was updated with additional safety features based on experience derived from the Fukushima nuclear disaster.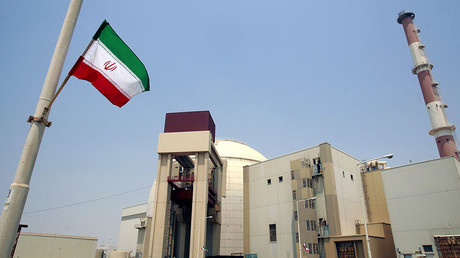 Russia and Iran signed a contract for the expansion of Bushehr in 2014, a year after Russian specialists commissioned the plant's first reactor.
The contract includes an option for six more reactors, which could be built at other sites sometime in the future.
Also Sunday, Iran announced that it had deployed a recently delivered Russian-made long-range missile system to central Iran to protect its Fordo nuclear facility.
A video showed an S-300 carrier truck in Fordo, raising its missile launchers toward the sky, next to other counter-strike weaponry.
Iran has maintained that its nuclear program is civilian and peaceful in nature and is aimed at creating energy, a claim many, including Israel, have found hard to believe.
Last year, Iran and six world powers signed a historic deal aimed at curbing Iran's nuclear program in exchange for sanctions relief.
According to the deal, Iran agreed to dramatically scale back its nuclear program, making it much more difficult for it to develop nuclear weapons.
The accord does not however limit Iran's development of civilian nuclear sites.
The images of the S-300 missiles at Fordo were aired hours after supreme leader Ayatollah Ali Khamenei gave a speech to air force commanders in which he stressed that Iranian military power was for defensive purposes only.
Khamenei also warned on Sunday that any military aggression against the Islamic Republic would be met with a harsh response.
This came amid escalating tensions between US and Iranian vessels in the Persian Gulf.
In an apparent reference to the US, Khamenei told soldiers at a Tehran air base "the enemy should understand that if it makes any aggression, it will be hit hard and our defense will also include response," according to the state-run Fars news agency.
Khamenei also called to bolster Iran's military capabilities "to the extent that the enemy doesn't even allow itself to think about aggression."
Referring to Iran's controversial purchase of the S-300 missile defense system, Khamenei charged the US "doesn't respect our nation's right of defense and actually wants us to remain defenseless so that they can launch aggression against our country whenever they want."
His remarks come days after US seamen complained of being harassed by Iranian gunboats in the open waters of the Persian Gulf, ramping up tensions.
On Saturday, a top Iranian military official claimed the strength of its navy was deterring the US from launching a military offensive against Tehran.
"The US doesn't enjoy the power to confront Iran militarily," Rear Admiral Fadavi, naval commander of the Islamic Revolution Guards Corps told a group of paramilitary volunteers in Arak, according to Fars.
Fadavi — who has previously called the US Iran's sole enemy and claimed its military capabilities have weakened in recent years — claimed the 97 IRGC speedboats patrolling the Persian Gulf were keeping US warships in the Persian GUlf at bay.
Last Wednesday, a US military official said Iranian ships in the Persian Gulf harassed American naval vessels in three recent incidents, including one that prompted a US warship ship to fire warning shots.
A day earlier, US defense officials said four Iranian warships in the Strait of Hormuz sped close to two US Navy guided-missile destroyers with their weapons uncovered in an "dangerous, harassing situation" that could have led to an escalation.
Video of the incident involving the USS Nitze shows American sailors firing flares and sounding the warship's horn as the Iranian boats approached.
A sailor can be heard saying that the weapons on the Iranian boats were "uncovered, manned."
The Nitze was accompanied on its mission by the USS Mason, another destroyer.
The semi-official Tasnim news agency quoted Gen. Hosein Dehghan as saying that "if any foreign vessel enters our waters, we warn them, and if it's an invasion, we confront."
He added that Iranian boats patrol to monitor traffic and foreign vessels in its territorial waters.
A defense official told AFP that ships from the US and Iranian navies had interacted more than 300 times in 2015 and more than 250 times the first half of this year.
Phase 3 may be commenced as soon as 2018, Iranian Vice-President Eshaq Jahangiri said during the ceremony.
The Bushehr project was launched in 1975 under the shah's government, but it ground to a halt after the Islamic revolution of 1979 because German manufacturers withdrew.
Russia's nuclear construction company Atomstroyexport took over the project in the 1990s.
"The competition of Phase 1 has proven that Russia always delivers on its promises to foreign partners, regardless of the political climate in the world," said Russian nuclear chief Sergey Kirienko during the opening ceremony in Iran.
"Phase 2 is [Russia's] practical contribution to fostering Russian-Iranian cooperation and a big step forward in strengthening Russia's position in the world nuclear technology market."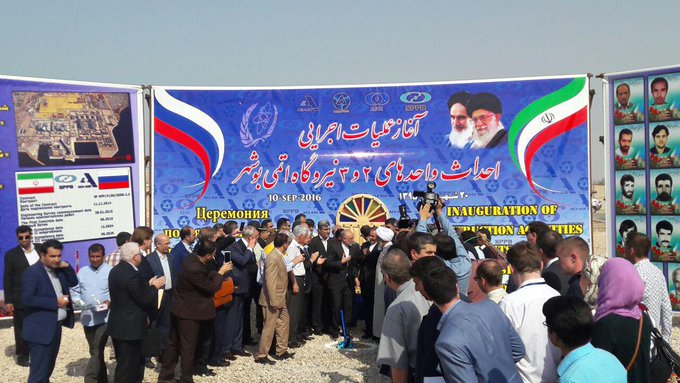 The Bushehr plant is the first nuclear power facility in the Arab Middle East.
Tehran estimates that each 1,000 MW reactor will save Iran 11 million barrels of crude annually. Iran is eyeing several ways to spend the additional megawatts, including powering a water desalination plant in Bushehr province.
"The plant would produce 200,000 cubic meters of freshwater per day, compared to the 50,000 to 60,000 cubic meters per day the province needs," said Iranian Atomic Energy Organization head Ali Akbar Salehi.
As part of the project, which is seen as a step in fulfilling Iran's ambition to develop a civilian nuclear industry, Russian specialists will also train Iranian staff working at the nuclear plant.