The Kremlin has hit out at the biggest deployment of US troops in Europe since the end of the cold war, branding the arrival of troops and tanks in Poland as a threat to Russia's national security.
The deployment, intended to counter what Nato portrays as Russian aggression in eastern Europe, will see US troops permanently stationed along Russia's western border for the first time.
About 1,000 of a promised 4,000 troops arrived in Poland at the start of the week, and a formal ceremony to welcome them is to be held on Saturday.
Some people waved and held up American flags as the troops, tanks and heavy armoured vehicles crossed into south-western Poland from Germany, according to Associated Press.
But their arrival was not universally applauded. In Moscow, Vladimir Putin's spokesman Dmitry Peskov said: "We perceive it as a threat.
These actions threaten our interests, our security. Especially as it concerns a third party building up its military presence near our borders. It's [the US], not even a European state."
The Kremlin may hold back on retaliatory action in the hope that a Donald Trumppresidency will herald a rapprochement with Washington.
Trump, in remarks during the election campaign and since, has sown seeds of doubt over the deployments by suggesting he would rather work with than confront Putin.
But on Thursday Nato officials played down Trump's comments, saying they hoped and expected that he would not attempt to reverse the move after he became president on 20 January.
That prediction was reinforced by Trump's proposed defence secretary, James Mattis, and his proposed secretary of state, Rex Tillerson, who backed Nato during Senate confirmation hearings.
Mattis, in rhetoric at odds with the president-elect, said the west should recognise the reality that Putin was trying to break Nato.
Tillerson, who has business dealings in Russia, described Russia's annexation of Crimea as "as an act of force" and said that when Russia flexed its muscles, the US must mount "a proportional show of force".
Nato was caught out by the Russian annexation of Crimea from Ukraine in 2014 and has struggled to cope with Russia's use of hybrid warfare, which combines propaganda, cyberwarfare and the infiltration of regular troops disguised as local rebels.
In response, the US and its Nato allies have been steadily increasing air patrols and training exercises in eastern Europe. The biggest escalation is the current deployment of US troops, agreed at last summer's Nato summit in Warsaw.
WARSAW — The long convoy from an American armored brigade slid unobtrusively across the German frontier into Poland just before 10 a.m. on Thursday.
A dozen residents from the southwestern border town of Olszyna turned up to watch.
"Americans coming here is the biggest thing that's ever happened to us," said one resident, Mieczyslaw Mroz, 62.
The convoy — the first installment of what are promised to be several thousand NATO troops to be based across Eastern Europe — made its lumbering way into the nearby town of Zagan for an official welcoming ceremony on a frigid square flanked by tanks.
"It's about time," said Jan Siemion, 62, a retired security worker who caught the end of the speeches. "Maybe this will stop this guy from the East who has been terrorizing us for decades."
After years of yearning for a permanent NATO troop presence along the alliance's eastern flank — to keep the guy from the East, President Vladimir V. Putin of Russia, at bay — leaders in Poland and elsewhere were jubilant when a plan to station a rotating contingent of a few thousand multinational troops was approved at the alliance's summit meeting in Warsaw last summer.
But now, as those troops are arriving on the scene, the situation has radically changed, and the promise of security feels considerably less certain.
The American president-elect, Donald J. Trump, enters office trailing a string of sometimes contradictory statements about NATO and insisting on a new era of chummier relations with Russia's autocratic leader.
So there is considerable concern in Warsaw and other Eastern capitals about whether the troops will actually arrive in the numbers promised, and whether this desire for friendlier relations with Moscow will lead to a deal that undermines the whole effort.
"Every new American president wants to initiate some sort of grand bargain with Russia," said Marcin Zaborowski, executive vice president of the Center for European Policy Analysis and head of its Warsaw office.
"And this region always suffers as a consequence of that. I suspect the suffering will be greater this time around."
NATO officials past and present say they remain convinced that the deployments will proceed and confident that the new president will soon understand the nature of the threat Mr. Putin presents to Europe and the United States.
"I am absolutely confident that the commitment of the United States is rock solid," Jens Stoltenberg, NATO's secretary general, said in a phone interview.
"Donald Trump told me so. He was very strong."
Statements Mr. Trump made during the campaign that questioned whether NATO had outlived its usefulness reflected, in part, his businessman's sense of grievance that allies were not paying their fair share of the costs of the alliance, officials said.
"Our intelligence services have very accurate sources about Russian behavior," said James G. Stavridis, a retired American Navy admiral, NATO supreme commander from 2009 to 2013 and now dean of the Fletcher School of Law and Diplomacy at Tufts University.
"Once the new president sees this, he will be supportive. As he absorbs more information about Russia, his skepticism about Vladimir Putin will deepen."
And Russia's future behavior may also compel the alliance to continue the deployments.
"I think it's highly unlikely Putin is going to change from a shark into a goldfish," Mr. Stavridis said. "We are going to see sharklike behavior continue around the periphery of NATO."
The deployments are structured as nine-month rotations. The armored brigade that crossed the border Thursday morning, based at Fort Carson, Colo., will remain until the fall, some troops on a base near Zagan and others spread across the region. But they are not scheduled to leave before replacements are in position, making the deployment, in effect, permanent.
A second American contingent, due in April, is to be positioned in eastern Poland in the so-called Suwalki Gap, considered the likeliest path for a Russian land invasion, although such an invasion is considered unlikely.
But here in Eastern Europe, Polish and other regional leaders are less certain, wondering whether those future troops will show up after Mr. Trump assumes office and, if they do, whether they will be based in the east, as promised.
And that does not take into account concerns about other promised American and NATO initiatives to reassure the anxious East, including an American missile shield to be built in Poland, mirroring one already in place in Romania, and the opening of forward supply depots throughout the region where NATO armaments could be stored to make rapid deployment possible in the event of an invasion.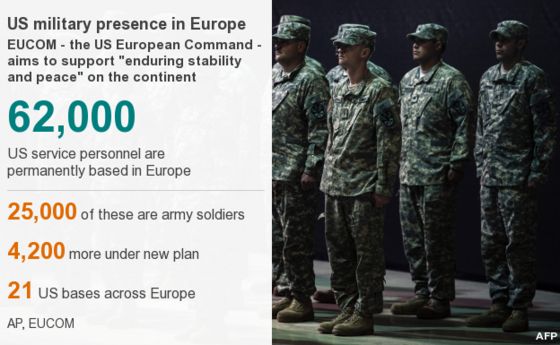 "I would say the forward positioning will not happen and, if there is any, it will be in the west of Poland," Mr. Zaborowski said. "Trump will come to some sort of agreement with Putin about keeping troop levels as low as possible, keeping real deterrent capability as low as possible and keeping the troops in the west of Poland instead of the east."
Mr. Stavridis said he expected the troop deployments to take place as scheduled, but suspected that the new administration's desire for a Moscow deal will lead to some horse-trading, perhaps involving that promised missile shield.
The nomination of Gen. James N. Mattis, a strong proponent of NATO, as Mr. Trump's secretary of defense does give Eastern Europeans more confidence.
"I would be very surprised if General Mattis backs off from this," said Thomas Donnelly, co-director of the Marilyn Ware Center for Security Studies at the American Enterprise Institute. "This deployment may not be everything you would like, but it's a real improvement. It's definitely more than half a loaf."
Now, at least, if Russians do come across the border "they might bump into NATO forces or even kill some Americans," he said, and that will be a powerful deterrent.
"Trump is talking out of both sides of his mouth," Mr. Donnelly said. "But Trump respects strong men. He thinks of himself as a strong man. I think there is going to be more to the U.S.-Russian relationship than Trump just doing whatever Putin wants him to do."
A Polish military orchestra played the Polish and American national anthems at Thursday's welcoming ceremony in Zagan. About 20 civilians turned up in the bitter cold, including a little girl in a red jacket and pink hat, who sat on a sled waving an American flag.
Capt. Matt Piazza, 28, like other American soldiers, declined to name Russia as the reason for the deployment.
"We're here to deter any aggression, wherever it may come from," he said. "But I don't believe it will happen. This is a peaceful mission."
Edyta Maher, 39, who had wandered over from the tiny village of Kalki to watch the convoy cross the border, expressed a more wary attitude.
"It's this Trump that worries me the most," Ms. Maher said. "There's no telling what he's going to do as president. But it looks like he and Putin may be doing some colluding. It can't be good for Poland."