Qatar Petroleum is exploring for oil and gas in Cyprus and Morocco as part of a strategy to expand the tiny Gulf emirate's global energy investments.
The world's biggest producer of liquefied natural gas known as QP must cope with local limits on growth as it seeks to expand its LNG business and increase its production and reserves of crude oil and gas, Saad Sherida Al Kaabi, the company's chief executive officer, said Monday in Doha.
"We have been chasing a few deals," he told reporters.
"In Cyprus, for instance, we won a bid for 40 percent of a plot for exploration.
We negotiated a production-sharing agreement after we won," with Exxon Mobil Corp. taking a 60 percent stake and QP the rest, he said.
"We went into Morocco for exploration," Al Kaabi said.
Qatar Petroleum is merging its two LNG divisions, Qatargas and RasGas, after dismissing thousands of workers in 2015 as prices have slumped amid waning demand and an influx of global supply.
By reducing costs at its domestic operations, QP is trying to improve competitiveness against rising LNG output from suppliers such as Australia and the U.S.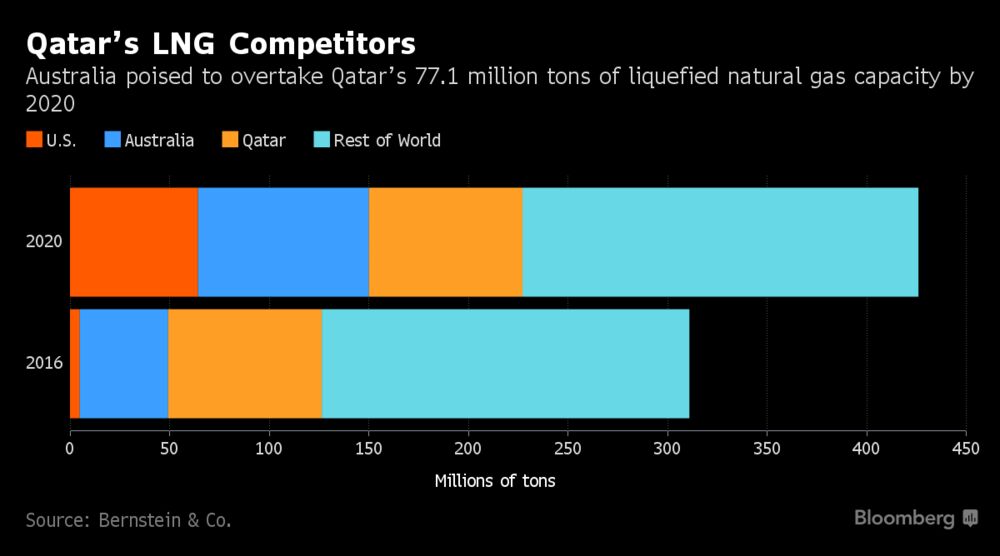 "Gas is going to be needed for a very long time," Al Kaabi said.
"I'm not worried at all about the glut."
Qatar, a member of the Organization of Petroleum Exporting Countries, pumped 615,000 barrels a day of crude in January, down from a peak of 880,000 in June 2008, data compiled by Bloomberg show.
With exports of 77.8 MT, Qatar maintained its status as the largest LNG exporter, which it has now held for a decade.
The country accounts for just shy of a third of global LNG supply. For the first time ever, Australia overtook Malaysia to become the second largest exporter in the world, at 29.4 MT.
This trend is expected to continue; although both countries have multiple new projects under construction, Australia's projects are greater in both number and capacity.
In addition to the 5.5 MT of supply added in 2015 from QCLNG and GLNG Train 1, an additional six projects (with 46 MTPA of capacity) will contribute to Australian supply growth through 2019.
In comparison, Malaysia has three projects under construction, with a capacity of 6.3 MTPA. Elsewhere in Asia-Pacific, exports also increased, driven by the ramp-up of supply at new projects (PNG, Donggi-Senoro in Indonesia), which added an incremental 3.8 MT.
The largest YOY export decline in 2015 came from Yemen, where political instability caused Yemen LNG to declare force majeure in January 2015. Although the plant quickly resumed operations in February, it was again forced to shut down in April 2015 by the worsening domestic situation; it remains offline as of February 2016. In the Atlantic Basin, several producers also faced production declines, though primarily as a result of feedstock issues rather than above-ground risk.
After Yemen, Trinidad showed the second largest YOY loss (-1.9 MT), while Algeria had a smaller but still significant 0.4 MT loss.
In Angola, technical difficulties at the Angola LNG plant, commissioned in mid-2013, led the facility to be shut down in April 2014 for an extended period of repair work.
The plant only exported five cargoes in 2014 (0.3 MT) and is expected to be back online in mid-2016.
Only three of the eight Atlantic Basin exporters demonstrated production growth in 2015. Nigeria increased 1 MT, maintaining consistent output, even in the face of continued pipeline sabotage issues that caused a brief force majeure in December.
Similarly, Norway was up 0.6 MT YOY as extended maintenance in 2014 at Snøhvit LNG have stemmed the technical issues that had plagued the plant since its 2007 start-up.
Three new countries began to re-export LNG cargoes in 2015, including two more countries in the Pacific Basin – India and Singapore – and the United Kingdom.
This brings the total number of re-exporters to 10 in 2015, which previously included: Belgium, France, the Netherlands, Portugal, Spain, South Korea and the US. The US is the only country to both re-export and regularly export cargoes, from the Kenai LNG plant in Alaska.
In addition, Brazil and Mexico also have re-export capabilities, although they did not re-export cargoes in 2015.
Despite the addition of three new markets, total re-export activity declined significantly in 2015 for the first time in six years as global price differentials narrowed.
Total re-exports were only 4.6 MT, a 37% decline from 2015. Although Europe continues to dominate re-export activity at 3.6 MT (-2.3 MT), it was also responsible for essentially the entire decline in re-exported cargoes. A
fter a big (90%) jump in 2014, Spain showed the biggest fall in 2015 (-65%, or -2.4 MT).
This decline in re-exports was primarily a result of global factors, such as the increase in new Pacific supply and the decline in global arbitrage potential, rather than market-focused gas demand recovery in Europe.
LNG Imports by Country
In contrast to the declining number of exporters, the number of importers grew in 2015 as four new markets took in LNG cargoes.
The addition of Jordan, Pakistan, Poland and Egypt – the first importer in Africa – brought the number of importing countries to 33.
Although Asia Pacific was still by far the largest market in 2015 at 139.8 MT, it also showed the biggest decline, falling by 5.1 MT to 57% of global LNG consumption.
Japan is the largest market in the region (and globally), followed by South Korea and Taiwan.
After narrowly outstripping Europe as the second largest LNG market in 2014, Asia once again fell to third place in 2015.
Although both markets showed significant YOY growth. China, India, and Pakistan imported a combined 35.6 MT, just under 15% of global trade.
European imports stood at 37.5 MT, up 4.6 MT from 2014 as re-export activity slowed.
In a strong reversal of recent trends, Europe had by far the largest growth globally in 2015 (+4.6 MT), as weaker Pacific demand led Atlantic and Middle Eastern producers to supply more volumes into the region.
This is the first year that Europe had positive LNG import growth since 2011 (which was only +0.2 MT); out of all 11 European importers, only France had a net YOY decline (-0.2 MT).
Not including new markets, the UK had the largest YOY growth of any LNG importer, taking in an extra 1.3 MT over 2014 even as it began to re-export cargoes.
It was followed closely by Belgium, which more than doubled its LNG imports to grow to 1.9 MT. New market entrant Poland added only very slightly to Europe's import gain, as it took its first LNG cargo at the end of December.
After Europe, the second and third largest demand increases came from emerging regions: Africa and the Middle East.
Jordan added 1.8 MT of new imports in its first year in the market as it looked to alleviate both its own gas shortage as well as that of neighbouring Egypt.
A portion of its imports went to feed the gas-short market in a reversal of historical pipeline flows. Existing importers Kuwait and the UAE also had significant incremental growth (+0.8 MT), as they capitalized on lower import prices to feed growing demand.
With the start-up of Egypt's two FSRU's, Africa imported LNG for the first time ever. Egypt had the fastest ramp-up of any importer ever, taking in over 1 MT within just four months of its first cargo in April, and reaching 3.0 MT by the end of the year.
This is significantly higher than the previous record for fastest ramp-up, set by India in 2004 with 1.9 MT of imports in its first year.
The largest decline came from Asia-Pacific (-5.1 MT).
The return of the first nuclear plant online in Japan since 2013, as well as weaker electricity demand and increased competition from competing fuels led to a 3.1 MT decline.
Increased fuel competition in the power sector was also a major factor in South Korea's 4.5 MT drop, as coal is increasingly being favoured for new power generation.
As additional nuclear and coal generation come online (or return) in Japan and South Korea, their LNG demand weakness can be expected to continue over the next several years.
Although Chinese LNG demand growth did not decline in 2015 (+0.02 MT), growth far underperformed expectations based on contracted supplies.
Still, total Asia demand grew by 2.0 MT in 2015, propped up by the addition of Pakistan (+1.1 MT) as an importer and slightly higher imports in India (+0.2 MT). While contracted supplies from new projects in the Pacific Basin have positioned China for strong LNG import growth in 2016-17, uncertainty remains regarding China's ability to absorb the contracted supply ramp-up into its market.
This could lead to additional volumes moving to the Atlantic Basin.
Both Latin American and North American LNG imports fell in 2015. In Latin America, economic performance and better hydroelectric stocks contributed to a 0.8 MT decline, though it still maintained a 7.1 MT lead over North America.
A weak economic outlook for the region, particularly in Brazil, weighs heavily on Latin America's LNG outlook, and could usher in a further decline in LNG imports in the Americas. Mexico – since 2012 by far the largest importer in North America – had the third largest decline after Japan and South Korea.
The completion of a new pipeline from the United States allowed for a ramp-up in pipeline imports, displacing 1.7 MT of LNG imports. Additional new midstream projects are set to allow for a further increase in low-cost pipeline supply from the US, pushing out more LNG in years ahead.
Globally, domestic production and pipeline trade still account for the majority of gas supplies, at 70.6% and 19.6% of the total, respectively.
LNG made rapid gains in the late 1990s and 2000s, but its share has stabilized around 10% since 2010; in 2014 LNG accounted for 9.8% of global gas consumption.
Still, LNG retains the highest growth rate of the three gas supply sources, expanding by an average 6.6% since 2000, though this dropped to just 2.2% between 2010 and 2014.
LNG imports have developed around the world for a variety of reasons.
In the largest markets in Asia Pacific, geographic and geologic restrictions make LNG the only viable source of gas supply.
Asia Pacific countries are by far the most dependent on LNG imports to meet gas demand, with LNG making up the majority of gas supply comparedto Latin America and Europe.
With little to no domestic production and no pipeline import capacity, Japan, South Korea and Taiwan – the three most important LNG markets in Asia Pacific – rely on LNG to meet nearly 100% of gas demand.
In other major gas markets, countries used LNG to offset maturing domestic gas production or pipeline supply, as has been the case in traditional gas producers like the UK, the Netherlands, Egypt and Argentina.
Other markets without or with limited domestic production such as Belgium, Greece, and France have also turned to LNG chiefly to supplement pipeline imports.
LNG imports have also evolved in gas-producing markets like Kuwait, Thailand and the UAE where stable or growing domestic production has been unable to keep up with rapidly increasing domestic demand.
In other markets, LNG is used to increase gas supply security.
Italy and Turkey are examples of firmly established pipeline markets that have used LNG to augment gas supply diversity.
LNG has also served to fortify supply for countries with historically unstable pipeline gas supply, such as Israel and Jordan, which have completely lost pipeline supply from Egypt.
Over the past few years, shifting market dynamics have changed the import requirements of several countries, allowing several markets to essentially wean off LNG imports.
The US shale revolution has allowed the US to become self-
QP is seeking international opportunities as domestic crude output declines and the government bars drilling in the offshore North Field, the source of the gas that transformed Qatar into the world's leading LNG supplier.
Authorities in the the Persian Gulf state of 2.6 million people imposed a moratorium at the field in 2005 to assess its gas flow and longevity.
Brazil, Mozambique
"Now, with how big the market is, and the limitation on how much you can develop in Qatar, we want to go external to further develop our strength in LNG," Al Kaabi said.
"That's why you see us expanding internationally. We will remain for a very long time the leader in LNG."
The company won U.S. regulatory approval in November to build a $10 billion LNG plant with partner Exxon Mobil.
It started another joint venture with Exxon to market the fuel, securing a first deal to ship 1.3 million tons of LNG to Brazil's CELSE-Centrais Elétricas de Sergipe S.A. beginning in 2020.
Qatar Petroleum is also considering a gas project in Mozambique.
Qatar Petroleum's merger of its Qatargas and RasGas divisions will help the company cut operating costs by "hundreds of millions of dollars," Al Kaabi said.