Two of Japan's biggest banks are now paying almost nothing to look after their customers' savings.
The average rate that Mitsubishi UFJ Financial Group Inc. and Mizuho Financial Group Inc.'s main banking units pay depositors fell to 0.00 percent for the first time in the nine months ended December, from 0.03 percent a year earlier, their latest earnings statements show. The numbers aren't exactly zero: the banks round the figures to two decimal places by simply cutting the third digit.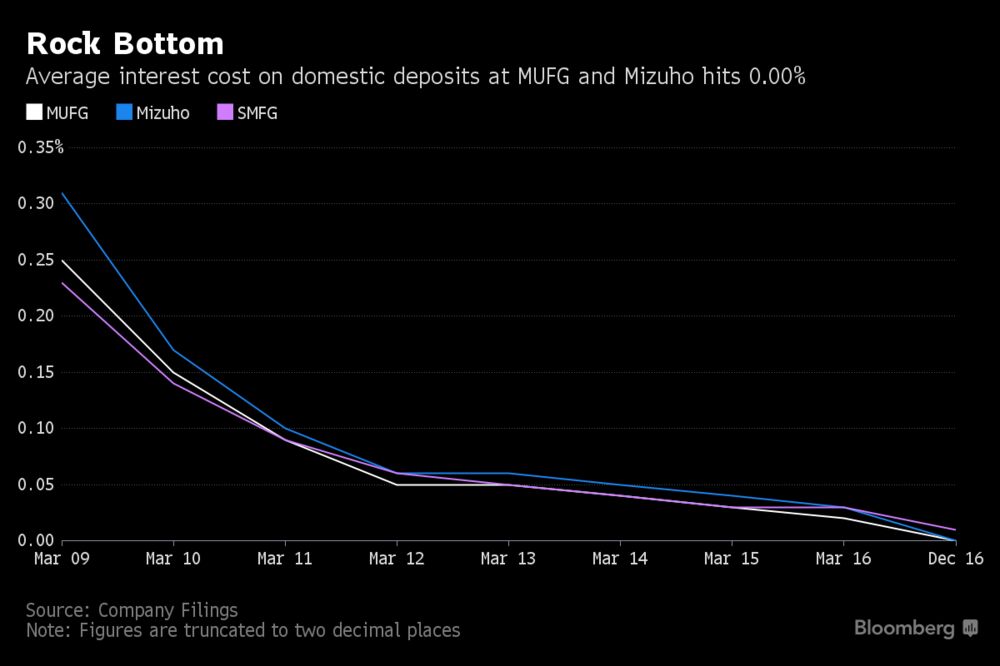 Lenders are lowering deposit rates to unprecedented levels to minimize a squeeze on interest margins since the Bank of Japan introduced negative rates a year ago.
Still, MUFG and Mizuho have no plans to start charging retail depositors, spokesmen for the Tokyo-based companies said, an indication they'll continue to feel the pinch from shrinking loan profitability.
MUFG's record-low rate reflects maturing time deposits being replaced by those that pay less interest, spokesman Ryuta Shimada said. Mizuho spokeswoman Masako Shiono said interest rates continue to trend downward and there are no signs of this turning around.
Japan's other megabank, Sumitomo Mitsui Financial Group Inc., had a 0.01 percent average rate on deposits at its main lending unit in the nine months to December.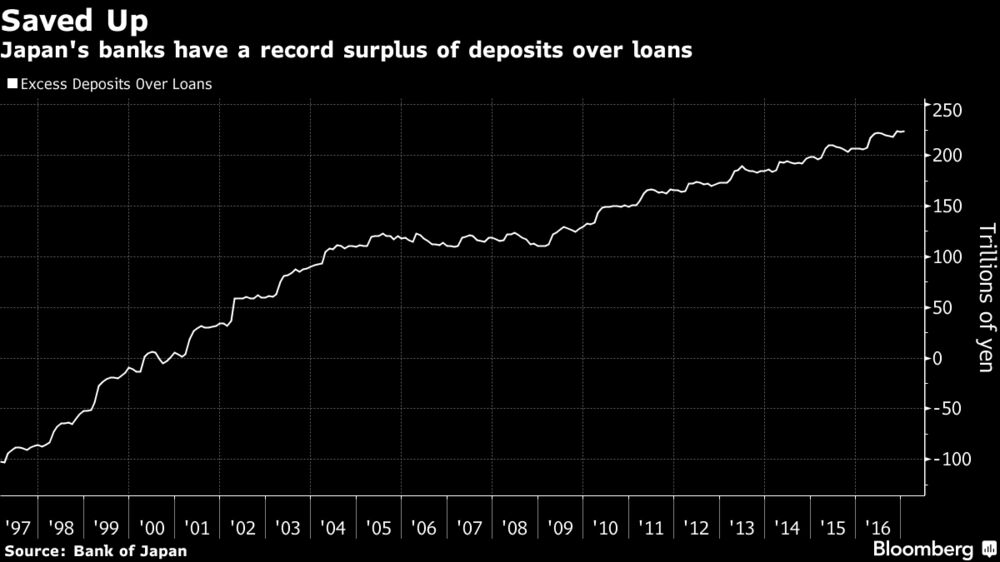 Despite the dearth of interest, deposits continue to swell in Japan as companies and individuals choose to save money rather than invest or spend it. Bank deposits grew 4.5 percent in January, outpacing a 2.6 percent increase in loans, BOJ figures showed Wednesday.
Deposits exceeded loans by a record 224 trillion yen ($2 trillion), more than the annual economic output of Italy.
"Deposits are still coming to banks even though they're pushing rates down," said Masahiko Sato, a Tokyo-based analyst at SMBC Nikko Securities Inc. "This shows they have no means to stop them." Sato said the lenders should try to boost sales of investment products to support their profitability.