Mitochondrial replacement therapy prevents children from inheriting lethal genetic diseases.
Researchers have been granted permission to carry out a new "three-parent baby" fertility technique that prevents children from inheriting lethal genetic diseases.
The first babies are now expected to be born using three-person IVF later this year following the historic decision by the Human Fertilisation and Embryology Authority (HFEA).
The fertility technique, which was developed by British scientists, allows doctors to replace an egg's defective mitochondrial DNA with healthy DNA from a female donor to prevent children suffering debilitating conditions such as muscular dystrophy.
It is controversial because it would result in babies born with the DNA of three people – and effectively, two mothers.
Yet despite concerns, the Human Fertilisation and Embryology Authority (HFEA) today said the procedure could go ahead when all other options, like screening, have proved futile.
IVF clinics can start applying for permission immediately and after gaining a licence, could begin practising the new procedure early next year, with the first babies potentially being born around Christmas 2017.
The technique involves transplanting nuclear DNA – which contains all the characteristics which make up a person – from a fertilised egg into a donated egg which contains healthy mitochondria, or alternatively removing the damaged DNA from an egg and replacing it with healthy mitochondria.
Mitochondria act as the batteries of the cells giving energy and if they do not work properly it prevents normal development.
Scientists believe that it could offer hope for around 150 women a year, a dozens of women are thought to have already expressed interest in the procedure.
The UK is the first country to legalise the procedure, although earlier this year the first baby was born using mitochondrial replacement in Mexico, where there are no laws preventing it.
However critics said the technique was 'dangerous', needless and 'ethically reckless'
Dr David King, director of the secular pro-choice watchdog group, Human Genetics Alert, said: "This decision, to approve experiments on babies, using this dangerous and medically unnecessary technology risks all our children's futures.
It opens the door to designer babies.
"Throughout the process, the campaigners for approval of this technology have relied on shameless emotional blackmail and scientific misrepresentations, and simply ignored the strong majority of people opposed to the technology in the public consultation.
"It is distressing when scientists, the people who we trust because they are supposedly dedicated to facts and evidence, behave like any other bunch of spin doctors. "
The regulator approved the first stage of a two-step licence for scientists at Newcastle University, who will be the first to carry out mitochondrial replacement therapy (MRT), as the technique is known.
"This significant decision represents the culmination of many years hard work by researchers, clinical experts, and regulators, who collectively paved the way for Parliament to change the law in 2015 to permit the use of such techniques," said Sally Cheshire, chair of the HFEA.
"Patients will now be able to apply individually to the HFEA to undergo mitochondrial donation treatment at Newcastle, which will be life-changing for them, as they seek to avoid passing on serious genetic diseases to future generations."
The next step in the two-stage licensing process will be to consider the application relating to an individual patient.
Only when this hurdle has been crossed – which is likely to happen soon – will doctors be permitted to go ahead with the treatment.
Professor Mary Herbert, who led the research into the ground-breaking technique, said she and her team were "delighted" by the decision.
The UK was the first country to legalise MRT, in which a tiny amount of DNA from a third woman is added to genetic information from its mother and father.
It was approved by the HFEA in December, opening the way for clinics including the Newcastle researchers to apply for permission to use the treatment.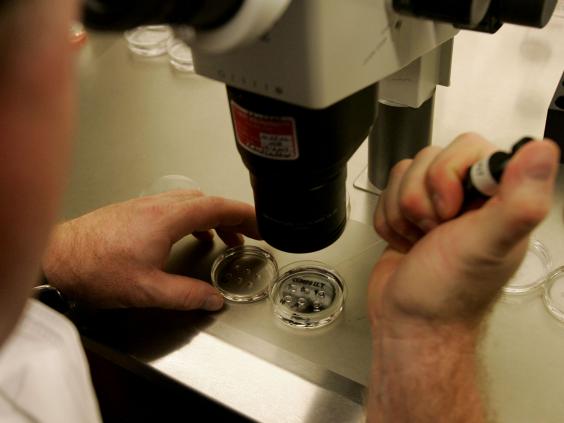 Women are already lined up to receive the therapy at the Newcastle Fertility Centre, which has said it hopes to treat up to 25 women a year.
NHS England has said it will provide £8m of funding for a five-year clinical trial.
One in 200 children are born with faulty genes in their mitochondria, small structures inside cells that generate energy.
This can lead to a wide range of potentially fatal conditions affecting vital organs, muscles, vision, growth and mental ability.
Just 0.1 per cent of a person's DNA is held in the mitochondria. It is always inherited from the mother and has no influence over individual characteristics, such as appearance and personality.
In mitochondrial replacement, an embryo containing healthy mitochondria from the donor is combined with nuclear DNA from the baby's mother and father.
In theory, mitochondrial replacement can not only prevent a child developing inherited diseases, but also protect future generations.
However, critics say the technique is not foolproof and small numbers of faulty mitochondria may still be "carried over" into the child, and even replicate in the developing embryo.
"The team here at Newcastle Fertility Centre is delighted with the HFEA's decision to grant our clinic a licence to offer treatments to prevent transmission of mitochondrial DNA disease," said Professor Herbert.
"Many years of research have led to the development of pronuclear transfer as a treatment to reduce the risk of mothers transmitting disease to their children.
"It's a great testament to the regulatory system here in the UK that research innovation can be applied in treatment to help families affected by these devastating diseases."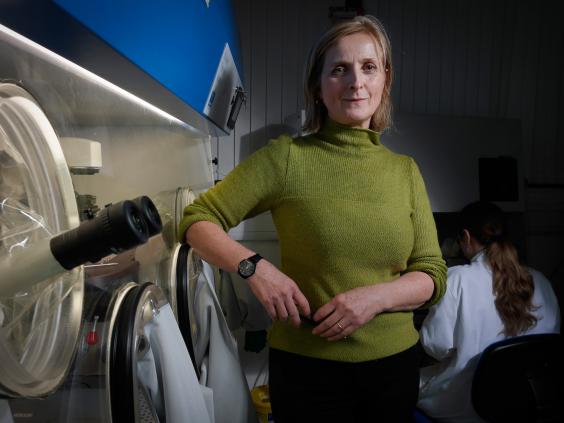 Adam Balen, chair of the British Fertility Society, said: "HFEA's decision to grant the Newcastle Fertility Centre at Life a licence to offer mitochondrial donation marks a historical step toward eradicating genetic diseases.
"Scientists in Newcastle have led the way on this groundbreaking research which will help families to overcome mitochondrial disease."
He added: "Preventing this transmission by using eggs donated from a healthy woman will allow women carrying the mutations to give birth to children free of the disease."