Oil prices rebounded and stocks slumped after a Saudi-led alliance cut diplomatic ties with Qatar and moved to close off access to the Gulf country, raising tensions in the world's biggest oil-producing region.
Many stocks – including property and energy companies – have slumped by 10%, which is the maximum daily move allowed by regulators.
Even the best-performing stock on the QSI index is down 6%, as investors are spooked by the sudden freeze in relations with other Gulf states.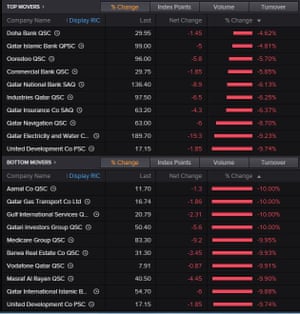 The Qatar index is currently down by 7.5%, hitting its worst level since early 2016.
Saudi Arabia, Bahrain, the United Arab Emirates and Egypt have said they will suspend air and sea travel to and from Qatar, escalating a crisis that started over its relationship with Iran.
Oil futures rose as much as 1.6pc in New York, paring the biggest weekly loss in a month.
Qatar's main stock index tumbled about 8pc during early trading.
The country has faced criticism from its Arab neighbours over its support of Islamist terrorists. The chief worry among them is the Muslim Brotherhood, a Sunni Islamist political group outlawed by both Saudi Arabia and the UAE as it challenges the nations' hereditary rule.
While the diplomatic spat has not affected shipments, it raises the prospect of supply disruptions from the Middle East, including Organization of Petroleum Exporting Countries (Opec) members Saudi Arabia, Iran and Qatar.
The nations all use the Strait of Hormuz, through which the US Department of Energy estimates about 30pc of seaborne oil trade passes.
Crude had slipped below $50 a barrel amid concern that an extension of Opec's cuts will not be enough to shrink global inventories as U.S. output expands.
"On the face of it, it could present a risk, but I don't think there is too much in the Qatar situation," said Daniel Hynes, an analyst in Sydney at Australia & New Zealand Banking Group Ltd.
Geopolitical risks haven't really been that influential in recent times and I don't think that will change too much."
West Texas Intermediate for July delivery climbed as much as $0.76 to $48.42 a barrel on the New York Mercantile Exchange and was at $48.28 by 12:41 pm in Hong Kong.
Total volume traded was about 33pc above the 100-day average. Prices lost $0.70 to close at $47.66 on Friday, capping a 4.3pc decline for the week.
Brent for August settlement added $0.66 to $50.61 a barrel on the London-based ICE Futures Europe exchange. Prices fell 4.2pc last week. The global benchmark crude traded at a premium of $2.10 to August WTI.
"The extension of Opec cuts has provided a fairly solid support level for Brent around $50 a barrel, so anytime it dips below that, I think we'll see buying come back fairly quickly," said Mr Hynes.