The United States maintains an arsenal of about 1,650 strategic nuclear warheads deployed on Intercontinental Ballistic Missiles (ICBMs), Submarine-Launched Ballistic Missiles (SLBMs), and Strategic Bombers and some 180 tactical nuclear weapons at bomber bases in five European countries.
The Departments of Defense and Energy requested approximately $26.8 billion in Fiscal Year (FY) 2017 to maintain and upgrade these systems and their supporting infrastructure, according to the nonpartisan Congressional Budget Office (CBO). CBO estimates that nuclear forces will cost $400 billion between FY 2015 and FY 2024.
An analysis by the Arms Control Association of U.S. government budget data projects the total cost over the next 30 years at between $1.25 trillion and $1.46 trillion in then-year dollars, meaning it includes price increases due to inflation.
The projected costs of nuclear modernization prompted Senate Armed Services Committee chairman John McCain (R-Ariz.) to utter the following on May 19, 2016, at the Brookings Institution: "it's very, very, very expensive….Do we really need the entire triad, given the situation?"
US NUCLEAR MODERNIZATION PROGRAMS

Department of Defense Programs

System
Modernization Plan
Costs
Length of Deployment
Additional Information
Minuteman III ICBM
Modernization and Replacement Program
$7 billion
through 2030 and possibly longer
Modernizes the propellant, guidance systems, propulsion system, targeting system, reentry vehicles and continues work on the rocket motors
New ICBM (GBSD)

Replace the Minuteman III missile and associated launch control and command and control facilities
$85-$140 billion (DoD estimate; FY 2017-2046)
2080s
Air Force plans to purchase 666 new ICBMs
B-2 Bomber
Modernization Program
$9.5 billion (FY 2000-2014)
2050s
Improves radar and high frequency satellite communications capabilities for nuclear command and control
B-52H Bomber
On-going modifications
2040s
Incorporates global positioning systems, updates computers and modernizes heavy stores adapter beams, and a full array of advance weapons
Long Range Strike Bomber (B-21)

Research and development phase
$38.5 billion (FY 2017-2026)
2080s
The exact specifications of the new bomber are classified
Long Range Standoff Cruise Missile (LRSO)

Replacement for the ALCM
$20 billion (estimated; includes cost of W80-4 warhead refurbishment)
2060s
Air Force plans to procure ~1,000 LRSOs
Columbia Class SSBN (SSBN(X))
New ballistic missile submarine
$128 billion (2016 Navy acquisition estimate)
2031 – 2080s
Navy plans to purchase 12 new submarines to replace the existing 14 Ohio-class submarines
Trident II D5 SLBM LEP
Modernization and life extension
2042
The U.S. military has upgraded and refurbished nearly all of its existing strategic and tactical delivery systems and the warheads they carry to last well beyond their originally planned service life and is now in the early stages of replacing many of these aging systems with new systems.
Though decades old, these modernized forces are more capable than the originals and the new systems will include additional capability upgrades. The current and planned U.S. investment in nuclear forces is unrivaled by any other nuclear power.
Gen. Paul Selva, the Vice Chairman of the Joint Chiefs of Staff, noted in testimony to the House Armed Services Committee in March 2017 that while Russia and China continue to modernize their nuclear forces, "we [the United States] do have a qualitative advantage." Similarly, Gen. John Hyten, the Commander of U.S. Strategic Command, told the Senate Armed Services Committee in April 2017, "the thing about deterrent capability is it doesn't matter how old [it is]." What matters is "whether it works."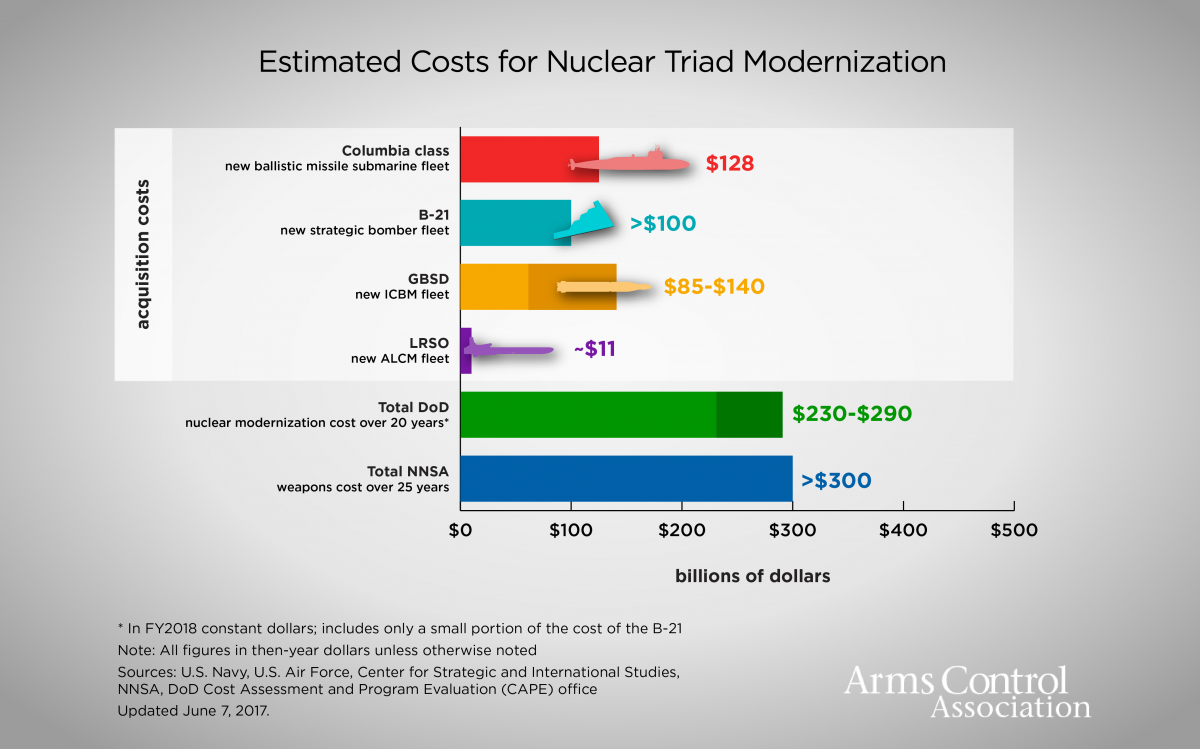 The Obama administration requested large increases for nuclear weapons programs at the Defense and Energy Departments to sustain and modernize the arsenal.
Indeed, president Obama's proposed spending levels for many key efforts exceeded what the administration originally advertised early in its first term.
Though president Obama and his military advisors determined that U.S. security can be maintained while reducing the size of its deployed strategic nuclear arsenal by up to one-third below the 2010 New Strategic Arms Reduction Treaty (New START) levels, the modernization plans they put in motion are based on maintaining roughly the New START levels in perpetuity.
It remains to be seen whether the Trump administration will take the current modernization approach in a different direction.
The administration is conducting a Nuclear Posture Review that is examing U.S. nuclear policy and strategy, including force structure and spending requirements.
As the administration conducts its review, which is slated for completion by the end of the year, its first budget request largely continues the Obama administration's plans. Last December then President-elect Trump tweeted that the United States "must greatly strengthen and expand its nuclear capability."
The Defense Department is projecting to spend $230-$290 billion to recapitalize U.S. nuclear forces between FY 2018 and FY 2040, in constant FY 2018 dollars.
The estimate includes the total cost of strategic delivery systems that have a nuclear-only mission, and a portion of the cost of the B-21 bomber (which will have both conventional and nuclear roles) that according to the department is consistent with the historical cost of delivering nuclear capability to a strategic bomber.
The total also includes the cost of modernizing nuclear command, control, and communications (NC3) systems.
Pentagon officials have said that when combined with the cost to sustain the current arsenal as new systems are built-currently about $12 to $14 billion per year-planned modernization costs will increase spending on nuclear weapons from the current level of approximately 3 percent of the overall defense budget to about 6 percent.
The above estimates do not include the cost of the Energy Department's nuclear weapons activities.
Submarine-Launched Ballistic Missiles (SLBMs) and Submarines

The United States Navy currently has the ability to deploy 288 Trident II D5 SLBMs on 12 Ohio-class ballistic missile submarines (SSBNs) based out of Bangor, Washington (7 boats) and Kings Bay, Georgia (5 boats).
The Ohio-class submarines have a service life of 42 years; two twenty year cycles with a two year mid-life nuclear refueling.
The total fleet includes 14 boats; due to the refueling process, only 12 SSBNs are operational at any given time.
Four to five submarines are believed to be "on station" in the Atlantic and Pacific oceans ready to fire their missiles at targets at any given time.
(By contrast, most of Russia's 12 ballistic missile submarines usually perform deterrence patrols at dockside rather than venturing out to sea.)
The Ohio-class SSBNs were first deployed in 1981, and will reach the end of their services at a rate of approximately one boat per year between 2027 and 2040.
The Navy plans to replace each retiring boat, starting in 2031, with a new class of ballistic missile submarine, now referred to as the Columbia class.
The Navy originally planned to begin using the replacement boats in 2029, but in 2012 the Pentagon announced a two year delay to the replacement program.
This pushed back completion of the first new submarine to 2031.
In its FY 2017 request, the Navy asked for $1.88 billion for the Columbia class program.
The Navy ultimately wants 12 boats, and in 2016 estimated the cost to develop and buy the submarines to be $128 billion in then-year dollars. In 2014 the Navy estimated the total life cycle cost of the program at $282 billion in then-year dollars.
Taking into account the delay, the Navy now plans to purchase the first Colubmia class boat in 2021, the second in 2024, and one per year between 2026 and 2035.
The first boat is scheduled to become operational in 2031. As a result, the Navy will field 10 ballistic missile submarines between 2030 and 2040.
Each Ohio-class submarine serves as a launch platform for up to 24 SLBMs loaded with up to eight warheads each.
Under the New START treaty, by 2018 the Navy plans to deploy 20 SLBMs on each Ohio class submarine rather than the full 24.
This will result in a total of 240 deployed SLBMs. The Columbia class will carry up to 16 SLBMs, for a maximum of 192 deployed SLBMs when the fleet is fully converted to the new boats in 2040.
First deployed in 1990, the force of Trident II D5 missiles has been successfully tested over 160 times since design completion in 1989 and is continusouly evaluated.
(By contrast, Russia's newest SLBM, the Bulava, has failed in roughly half its flight tests.)
The Trident II D5 LEP is underway to modernize key components, notably the electronics, and extend the life of the missile until 2042.
In 2008, 12 life-extended variants of the D5 were purchased; 24 D5s were produced each year through 2012 for a total of 108 missiles at a total cost of $15 billion.
The first modified D5s were deployed in 2013. The Navy's FY 2018 budget request includes a proposed $1.27 billion to fund the Trident II LEP.
The D5 SLBMs are armed with approximately 768 W76 and 384 W88 warheads.
-*-*-*-* The "Bulletin of the Atomic Scientists" futher describes the weapon — "The Trident D5s carry three types of warheads: the 100-kiloton W76/Mk-4, the 100-kiloton W76-1/Mk-4A, and the 455-kiloton W88/Mk-5 warhead, the highest-yield ballistic missile warhead in the U.S. arsenal." *-*-*-*
In 2009, NNSA began delivery of the W76-1, a refurbished version of the W76 that extends its service life for an additional 30 years.
According to NNSA, the W76 LEP is refurbishing the nuclear explosive package, the arming, firing, and fusing system, the gas transfer system, and associated cables, elastomers, valves, pads, cushions, foam supports, telemetries, and other miscellaneous parts NNSA plans to complete the $4 billion production of up to 2,000 W76-1 warheads by 2019.
NNSA requested $224 million for the W76 life extension program for FY 2018.
The W88 entered the stockpile in 1989, making it the newest warhead in the arsenal.
The W88 was the last U.S. warhead produced before the Rocky Flats Plants – which made plutonium "pits" – was shut down in 1989. NNSA re-established pit production capacity at Los Alamos National Laboratory with the first "certifiable" pit in 2003, and new production resumed in 2007.
A new plutonium research and pit production facility, the Chemistry and Metallurgy Research Replacement Nuclear Facility (CMRR-NF), was planned for Los Alamos, but was put on hold for budget reasons in 2012.
NNSA requested $663 million in FY 2017 for construction of the UPF at Oak Ridge National Laboratory in Tennessee.
With the rebuilt Trident D5 missile in service to 2042, the W76-1's life extended to 2040-50, the relatively new W88 in service, and a new class of SSBNs lasting into the 2070s, the U.S. Navy's Trident Fleet will be kept robust and modern deep into the 21st century.
The good news?
The US submarine fleet is meeting day-to-day demands around the world, without having to do the extra-long deployments that have ground down surface ships and sailors.
The bad news?
A massive maintenance backlog that could idle 15 submarines for months – costing an estimated seven to 15 years of time at sea – means fewer subs would be ready to reinforce forward-deployed forces in a crisis.
"If you have a submarine that's tied up in the shipyard, then obviously they're not operating," Vice Adm. Joseph Tofalo told me.
"It's probably most manifest in our ability to surge in time of crisis. We meet our combatant commander (COCOM) demand on a day to day basis, but the impact would be, if there's a crisis, then your surge tank is low."
Tofalo and other officers at last week's Naval Submarine League conference made clear they're laboring mightily to make up for the shortfall.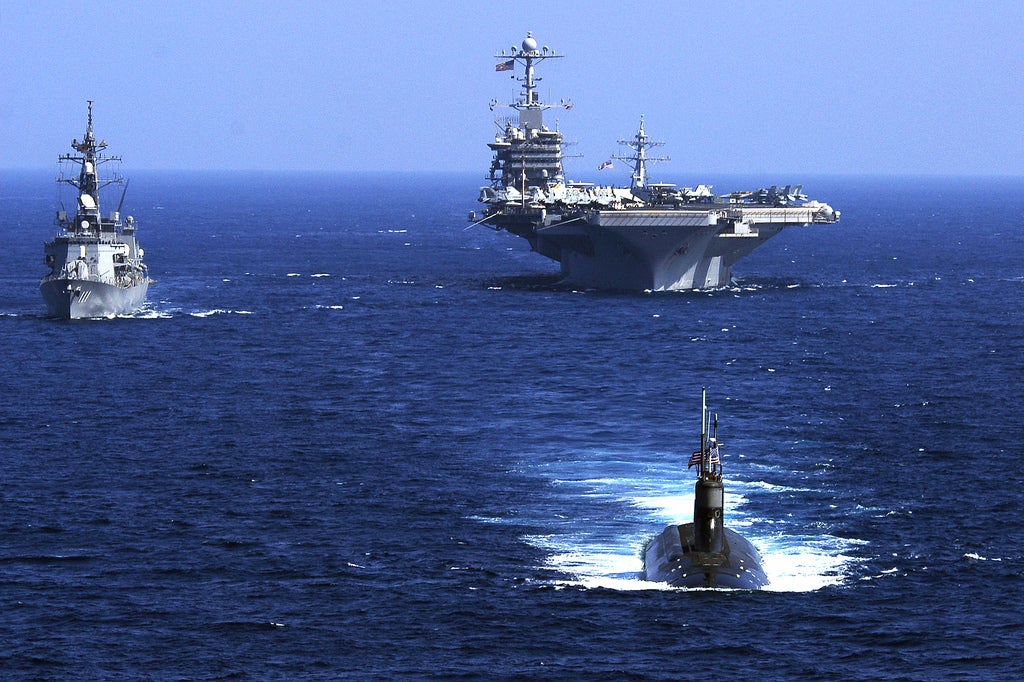 The Navy wants to build more new Virginia-class submarines, and faster, while extending the service lives of the Virginia and Los Angeles boats it already has.
It is adjusting work schedules and outsourcing "about a million man-hours of work…over five years" from maxed-out government-owned yards to private shipyards Newport News and Electric Boat, Tofalo said. (Many in Congress would like it to outsource more).
As Commander, Submarine Forces, Tofalo has also streamlined the training schedule to concentrate on the most challenging missions, especially the kind of high-intensity warfare against an advanced adversary that a crisis might require.
SSBN/SSGN conversions
After the end of the Cold War, plans called for Ohio to be retired in 2002, followed by three of her sister boats.
However, Ohio, Michigan, Florida, and Georgia instead were slated for modification, to remain in service carrying conventionally armed guided missiles, and were redesignated as SSGNs.
The conversion modified 22 of the 24 88-inch (2.2 m) diameter Trident missile tubes to contain large vertical launch systems (VLS), one configuration of which may be a cluster of seven Tomahawk cruise missiles.
In this configuration, the number of cruise missiles carried could be a maximum of 154, the equivalent of what is typically deployed in a surface battle group.
Other payload possibilities include:
new generations of supersonic and hypersonic cruise missiles,
Submarine Launched Intermediate Range Ballistic Missiles (SLIRBM),
unmanned aerial vehicles (UAVs), the ADM-160 MALD,
sensors for anti-submarine warfare or intelligence, surveillance, and reconnaissance missions, countermine warfare payloads such as the AN/BLQ-11 Long Term Mine Reconnaissance System (LMRS),
the broaching universal buoyant launcher (BUBL)
stealthy affordable capsule system (SACS) specialized payload canisters.
The missile tubes also have room for stowage canisters that can extend the forward deployment time for special forces.
The other two Trident tubes are converted to swimmer lockout chambers.
For special operations, the Advanced SEAL Delivery System and the dry deck shelter can be mounted on the lockout chamber and the boat will be able to host up to 66 special operations sailors or Marines, such as Navy SEALs, or USMC MARSOC teams.
Improved communications equipment installed during the upgrade allows the SSGNs to serve as a forward-deployed, clandestine Small Combatant Joint Command Center.
On 26 September 2002, the Navy awarded General Dynamics Electric Boat a US$442.9 million contract to begin the first phase of the SSGN submarine conversion program.
Those funds covered only the initial phase of conversion for the first two boats on the schedule.
Advanced procurement was funded at $355 million in fiscal year 2002, $825 million in the FY 2003 budget and, through the five-year defense budget plan, at $936 million in FY 2004, $505 million in FY 2005, and $170 million in FY 2006.
Thus, the total cost to refit the four boats is just under $700 million per vessel.
In November 2002, Ohio entered a drydock, beginning her 36-month refueling and missile conversion overhaul. Electric Boat announced on 9 January 2006 that the conversion had been completed.
The converted Ohio rejoined the fleet in February 2006, followed by Florida in April 2006. The converted Michigan was delivered in November 2006.
The converted Ohio went to sea for the first time in October 2007. Georgiareturned to the fleet in March 2008 at Kings Bay.
These four SSGNs are expected to remain in service until about 2023–2026. At that point their capabilities will be replaced with Virginia Payload Module equipped Virginia-class submarines.
Submarine Readiness
It's also worth noting that submarine readiness has never been stretched as badly as in the surface force, which has suffered from a vicious cycle:
hard-used ships need extra time in maintenance and thus miss their deployment dates, forcing other ships to stay at sea longer to cover the gap, which means those ships will need unplanned maintenance and deploy late in turn.
The worst cases occurred in the Japan-based 7th Fleet, where two destroyers collided with civilian ships this summer, killing 17.
By contrast, submarine deployments have averaged 182 days over the last three years. That almost perfectly tracks the official norm of six months overseas and 12 months doing maintenance and training at home. In fact, deployment timelines have trended downward lately.
There are exceptions: The USS Jacksonville recently did 18 months on its final tour before retiring. "The real world gets a vote, and so that causes, episodically, things to happen," Tofalo said. "Can you put a pattern to what Kim Jong-un is going to do? What China's going to do or Russia, Iran?"
But overall, Tofalo said, sub deployment cycles are "fairly stable." They have to be, he told me, because submarines operate on 18-month cycle, while most surface ships are on a 36-month one. There's no room in the tighter sub cycle to accommodate delays.
While there have been few delays due to over-long deployments, however, there have been delays due to over-long maintenance periods. Over the last eight years, Tofalo told the conference, six submarines "have taken or are projected to take five percent to 100 percent longer to complete their overhauls than expected." The current backlog affects 15 submarines and could cost the Navy almost 15 years of time at sea, although there's a mitigation plan in place to halve that.
What's going wrong? "This is a long term issue," Tofalo told me. "It started back in the nineties." The Navy cut back from eight public shipyards to four. Then it increased the shipyard workload by converting four Ohio-class ballistic missile submarines (SSBNs) to Tomahawk cruise missile carriers (SSGNs). Then it increased the workload again by deciding to overhaul the Ohios to keep them in service longer, which allowed more time to develop the $128 billion replacement program, the Columbia class. Older, more efficient workers retired en masse, forcing the yards to hire and train a new generation.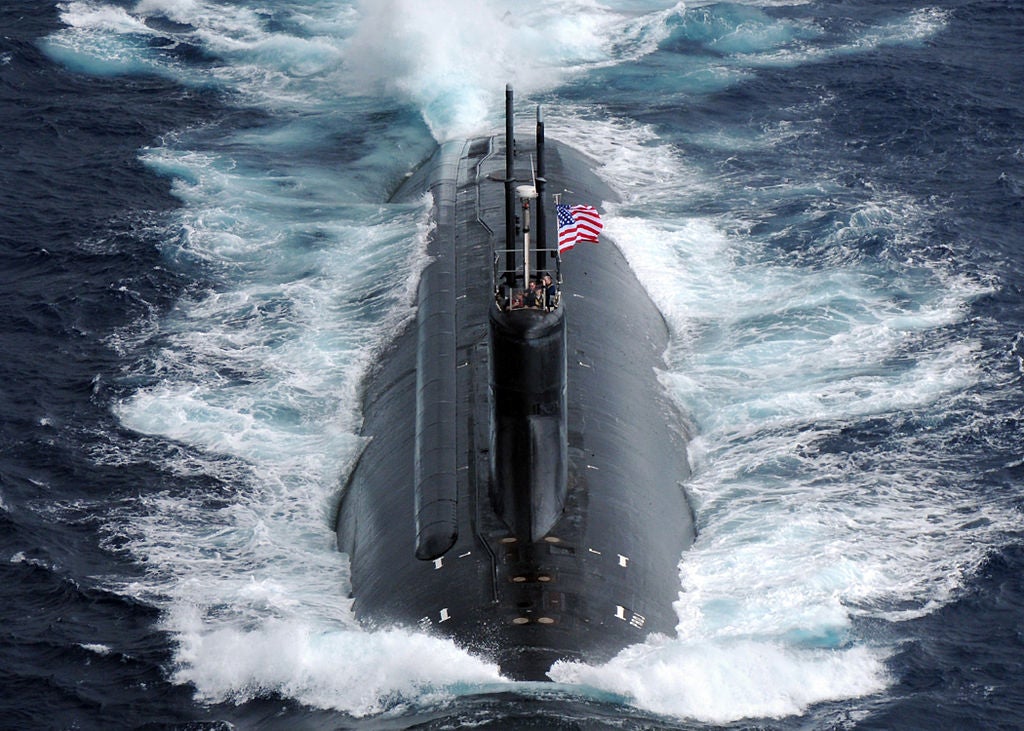 continuing resolutions, government shutdowns, and hiring freezes made it harder to get work done. "It's this perfect storm of a lot of stuff over two decades, and then you throw on top of it sequestration, the Budget Control Act and the unpredictability of funding," Tofalo said.
"We've had a backlog of maintenance that started with sequestration," echoed Adm. James Caldwell, head of Naval Reactors (NR).
"We've got a very young and inexperienced work force in the yards… roughly 50 percent is under five years of experience.
We've also had emerging work" (i.e. unplanned extra maintenance).
So, Caldwell continued, "we sharpened our pencils and looked at schedules and made those work better for us, and actually we've substantially reduced the months of backlog" from 177 (14.75 years) to 81 (6.75 years). "We are hiring in the shipyards (with) very aggressive training plan," he said. "We've had to change our paradigm….We don't have years and years to develop a mechanic."
Build More Boats & Keep 'Em Longer
The Navy is also looking at extending the lives of at least some of its aging Los Angeles attack subs. As each boat approaches its planned retirement date, said Rear Adm. Michael Jabaley, Program Executive Officer for Submarines, it is subjected to an in-depth study to see if it can do one more deployment.
The Navy is also reexamining whether its newer Virginia-class submarines need as much time-consuming major maintenance as originally estimated. "Based on engineering analysis and actual data coming back off the first ships of class," Jabaley said, the Navy is studying "instead of having four major maintenance periods throughout the life of the ship, you would have only three."
Besides easing the burden on the shipyards, getting rid of one major maintenance "availability" per Virginia would allow each submarine to do one additional deployment in its career, going from 14 to 15. To get the same increase in overseas presence by building more submarines would require increasing production by seven percent.
The service and shipyards have also sped up construction of new Virginias, with the time to build a sub dropping from seven years (84 months) for the first in the class to a projected five years (60 months) for some future boats.
Most crucially, said the Navy's top uniformed acquisition official, Vice Adm. David Johnson, the shipyards need to keep pumping out new Virginia attack subs at a rate of two a year – even in years they also have to build a much bigger Columbiaballistic missile boat. The original plan was to alternate: in some years the yards would build two Virginias, in others one Virginia and one Columbia. Now the Navy says the yards can and must ramp up to keep the attack subs coming like clockwork to build the fleet of 66 – up from 52 today – that the Navy says it needs.
"We really do need to keep it two a year. That's a machine," Johnson said. " "if you want to have 66 submarines, you build them at two a year with a 33-year life."