A group of Muslim hacktivists from Ahlus Sunnah Wal Jamaah, the Sunni sect of Islam and going by the online handle of Di5s3nSi0N hacked the official website of ISIS/ISIL (Daesh) and leaked a list of more than 2000 people who had subscribed to the site's newsletter and updates through email.
A week ago, the targeted website Amaq which also works as a news agency for the terrorist organization claimed that it was facing increasing cyber attacks against the agency and that it has increased its security and now their admins can tackle "any type of hack."
"In response to recent events, we have imposed more stringent security measures on our systems. We can now handle email attacks or any type of hack," reported The Independent who received emails from ISIS in Arabic.
For Di5s3nSi0N, the statement was more like a challenge which they accepted happily and within a day found a security flaw on the site allowing them to steal a list of 1,784 subscribers. The Independent has verified the list.
 Upon taking over the site, hackers sent a number of emails to subscribers from the site's official email address 
[email protected]
displayin
g a hooded man and the following message:
"We have hacked the full "secure" email list of Amaq! Daesh…shall we call you dogs for your crimes or snakes for your cowardice? We are the bugs in your system."
"Challenge complete – too easy! 2000 email subscribers hacked from Amaq… What is next??," Di5s3nSi0N said in a Tweet.
Amaq was created by Baraa Kadek, a Syrian journalist who worked for Halab News Network and joined the terrorist organization in 2013. The website according to the New York Times has "a direct connection with ISIS" and issues claims whenever a terrorist attack is carried out anywhere in the world.
2017 has been a bad year for the terrorist group since its losing its ground in Iraq and Syria while their online presence is also at stake. Currently, the group has a presence on Telegram messaging service.
Remember, this is not the first time when hacktivists have hacked into the website of world's deadliest terrorist group, in fact, in 2015, Anonymous defaced ISIS's site on Dark Web with Viagra Ad.
At the time of writing, cyber attacks had disabled updates on Amaq's current website, its Tumblr account was outdated and the only platform it remained able to operate was on the Telegram messaging service.
As Isis territory has been retaken on the ground, seeing Syrian forces push into the last town held by militants this week, governments and activists have been taking on its sophisticated media network.
The Di5s3nSi0N attack was part of the group's #silencetheswords campaign, which it claims will culminate next week.
It is among the vigilante hacking collectives targeting Isis' websites and servers, which have continued to relay propaganda to its followers despite a mounting international crackdown.
The shadowy collective has a mission statement reading: "We the steadfast youth of ahlus-Sunnah wal-Jammah [Sunni Muslims] are back to break Daesh."
Di5s3nSi0N members describe Isis as traitors who worship a "false caliph" in their leader Abu Bakr al-Baghdadi. They has been hacking websites hosting Isis propaganda including Halummu news agency, al-Furqan video outlet and al-Bayan online radio station.
Members of CtrlSec and End of Daesh have also been launching operations and tweeting updates tweet using the #OpIsis and #OpIceIsis hashtags.
Previous attacks have been anyone attempting to view the Amaq website met with malicious software disguised as an update, able to activate cameras, steal files, read phone messages, detect GPS locations and collect contacts from unsuspecting jihadis.
Meanwhile, group called Daeshgram has been working to sow discord and confusion among Isis supporters by setting up accounts issuing convincing fake statements.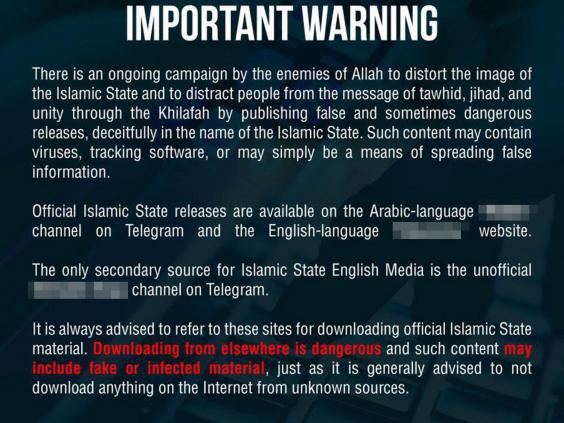 "Isis supporters on Telegram are very confused which one is fake and which one is real," an activist told The Independent. "They usually fail in guessing and join the fake ones thinking they are real."
Some of Daeshgram's posts mock Isis fighters, appearing to show them gathering to watch videos of bikini-clad women, while others aim to undermine the group's messaging.
It has used fake al-Bayan radio broadcasts to distribute information about Isis's battlefield losses and defections, as well as highlighting the number of informers and spies.
The group's propaganda agencies have issued warnings over forgeries and attempted to direct followers to official accounts, rather than the "campaign by the enemies of Allah to distort the image of the Islamic State", but Daeshgram says its posts continue to be shared.
While online activists continue their attacks, platforms including Facebook, Twitter and YouTube have been increasing efforts to identity and remove extremist content and the UK's Counter Terrorism Internet Referral Unit has removed hundreds of thousands of pieces of terrorist material.
But Isis has been finding ways to evade detection on Telegram and other sites, with a recent report finding that jihadi content was accessed more frequently in the UK than anywhere else in Europe.
Analysts say huge losses for Isis on the ground have damaged its ability to maintain its propaganda output, with its flagship monthly Rumiyah propaganda magazine several weeks overdue.