North Korea has not stopped its nuclear and missile programmes, violating UN sanctions, a report commissioned by the UN Security Council says.
It also says Pyongyang has resorted to a "massive increase" of illegal ship-to-ship transfers of oil products and has been trying to sell weapons abroad.
The confidential report by a panel of independent experts was submitted to the UN Security Council on Friday.
North Korea has so far not commented on the document's findings.
Last week, US officials said Pyongyang appeared to be building new ballistic missiles despite recent warming ties with US President Donald Trump's administration and pledges to denuclearise.
Unnamed US officials told the Washington Post that spy satellites had spotted continuing activity at a site that has produced ballistic missiles.
President Trump met North Korea's Kim Jong-un in Singapore in June, and the two leaders then pledged to work towards denuclearisation, without specifying exactly what this would look like.
Pyongyang is currently under a range of international and US sanctions over its nuclear programme and missile tests.
What did the UN report say?
The document was prepared by the experts monitoring the implementation of the UN sanctions against North Korea.
It was seen by several media outlets early on Saturday.
The report said:
"[North Korea] has not stopped its nuclear and missile programmes and continued to defy Security Council resolutions through a massive increase in illicit ship-to-ship transfers of petroleum products, as well as through transfers of coal at sea during 2018."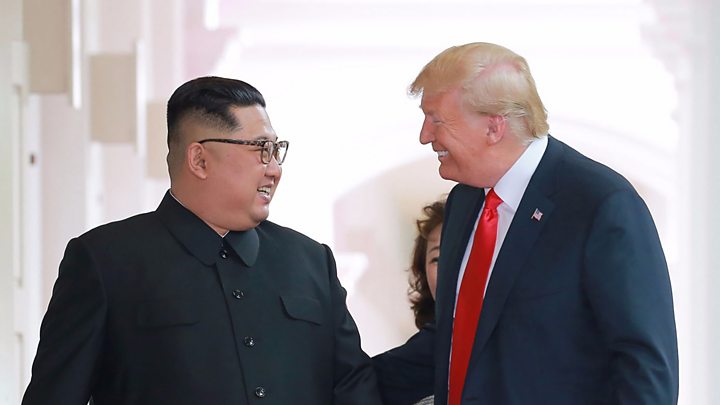 It said that Pyongyang also "attempted to supply small arms and lights weapons and other military equipment via foreign intermediaries" to Libya, Yemen and Sudan.
·     US figures estimated that North Korea had procured over 500,000 barrels of petroleum products in the first five months of 2018. The transfer of the products involved 40 vessels and 120 associated companies.
·     North Korea continued to receive revenue from exports of banned commodities. For instance, it received $14 million (€12 million) from October 2017 to March 2018 for deliveries of iron and steel to China, India and other countries.
·     North Korea also violated a textile ban by exporting more than $100 million in goods to China, Ghana, India, Mexico, Sri Lanka, Thailand, Turkey and Uruguay within the same time period.
·     Diplomats from North Korea played a key role in evading UN sanctions.
·     Pyeongyang "attempted to supply small arms and light weapons (SALW) and other military equipment via foreign intermediaries" to Libya, Yemen and Sudan.
.     A Syrian arms trafficker, named as Hussein Al-Ali in the report, offered "a range of conventional arms, and in some cases ballistic missiles to armed groups in Yemen and Libya" that were produced in North Korea.
Al-Ali also helped negotiate a "protocol of operation" with Yemen's Huthi rebels in Damascus in 2016.
The experts concluded that North Korea's activities had made financial sanctions ineffective.
The report came as US Secretary of State Mike Pompeo said he was "optimistic" that North Korean denuclearisation could be achieved.
Speaking ahead of a summit of the Association of South East Asian Nations (Asean) in Singapore, he said:
"The work has begun. The process of achieving denuclearisation of the [Korean] peninsula is one that I think we have all known would take some time."
He stressed that it was important to maintain "diplomatic and economic pressure" on North Korea to achieve "the final, fully verified denuclearisation".
He also said he had seen reports that Russia was issuing permits allowing North Koreans to work on its territory, defying the sanctions.
"I want to remind every nation that has supported these resolutions that this is a serious issue and something that we will discuss with Moscow.
"We expect the Russians and all countries to abide by the UN Security Council resolutions and enforce sanctions on North Korea," Mr Pompeo said.
Russia has denied a report by the Wall Street Journal that it was letting thousands new North Korean labourers into the country.
What are the UN's sanctions on North Korea?
When North Korea conducted its first nuclear test, the UN demanded it cease all future nuclear testing and in turn set up the North Korea Sanctions Committee — part of the global organization's Security Council.
It also prohibited countries from exporting military equipment and luxury items to the North.
Several other sanctions have been imposed over the past decade, banning North Korea from exporting gold and other rare earth metals, coal, lead, seafood and textiles
. The UN has also imposed restrictions on North Korea's Federal Trade Bank, banned joint ventures and barred North Korean nationals from working in other countries.
North Korea promises denuclearization:
At a landmark summit in Singapore with US President Donald Trump in June, North Korean Leader Kim Jong Un committed to "complete denuclearization."
In return, Kim asked for "security guarantees" from the US. Trump tweeted a day after the summit that "North Korea was no longer a nuclear threat."