The so-called sex-boxes were introduced in the world's banking center Zurich five years ago after locals had voted for a $2 million plan for building one-car garages where prostitutes and clients could meet.
Since then, the drive-ins have been working with a precision of a Swiss clock and even seen some bicycle-friendly improvements lately.
The Zurich city council has told the Swiss news agency SDA that the goals of sex boxes, established in 2013, have been fulfilled.
This August the prostitution drive-ins of Strichplatz Depotweg, away from the residential neighborhoods, are having their fifth anniversary.
City social department, as cited by the media, described the facility as "well established" and functioning.
The measure was especially effective for preventing violence against sex workers and human trafficking, as since 2013, not a single case of severe violence has been registered.
Most of them have come to Switzerland from Eastern Europe; an advisory service for prostitutes has its office in the area, which is also patrolled by social workers.
The counselors can identify exploitation and human trafficking victims at an early stage. Each year they report to the police about 100 possible victims.
From 20 to 25 women work daily at the facility, which resembles a row of one-car wooden garages.
The drive-in has established working hours, according to the information on the web-site of the city council:
customers can buy sex there from 7 pm till 3 am from Sunday till Wednesday.
Hours of operation from Thursday till Saturday is two hours longer, up to 5 am.
Earlier only cars have been welcome at the sex boxes, but since the beginning of 2018 bicycles and bikes have been allowed as a test, which has also been proved to be successful.
Apart from car garages, standing boxes can be used now at the facility.
Each night, a beeline of cars forms on the way to a drive-in in this Swiss city's Strichplatz area, but the customers are not lining up for fast food.
Rather, they are waiting for a service of another kind:
to spend time with the prostitutes plying their trade in one of Zurich's famous "sex boxes."
And it's all perfectly legal.
In fact, these government-sponsored digs, which look like one-car garages, are celebrating their fifth anniversary Sunday. Last week, city officials announced that the project has been a resounding success.
Prostitution in Zurich is nothing new.
For years, hookers conducted their business in the city's riverfront area, but residents often complained about the noise, traffic jams and other disturbances from carousing clients.
To municipal authorities, this arrangement makes a lot of street sense.
As the city noted on its website, the premises were intended to "improve the working conditions of sex workers – their health, physical and mental integrity."
"The Strichplatz is effective in preventing violence against sex workers and human trafficking," she added.
And since opening in 2013, several improvements have been made.
Originally, the boxes only accommodated customers in vehicles.
A year later, the municipality added several wooden structures furnished with plank beds, "responding to concerns that not all customers want to receive services in their car," the city said.
Motorbikes and bicycles are now also permitted inside "to meet the needs of the population," authorities noted.
Walk-ins are not welcome, though, and are directed to the city's other officially-sanctioned prostitution area, the Harnigstrasse.
The site is regulated with a Swiss-clock precision:
Maps show how to find the area and which way to drive by following arrows painted on the road.
The premises are open for business from 7 p.m. to 3 a.m. during the week and until 5 a.m. on weekends.
Once inside, the cost is negotiated with one of the 24 women – mostly from Eastern Europe – who typically work in the Strichplatz.
"The price is set by sex workers and their customers.
The staff doesn't interfere in these arrangements," Schuster said.
After setting the price, the client and sex worker drive to a free box.
For privacy reasons, there are no security cameras, but each box is equipped with an alarm button that will summon guards in case of trouble.
There have not been any serious incidents so far.
Prostitution has been legal in Switzerland, a nation of about 8.5 million people, since the 1940s and is considered like any other service industry.
The Swiss have taken this pragmatic approach to prevent exploitation, sexually transmitted diseases, links with criminal networks and other problems common in countries where sex commerce is banned.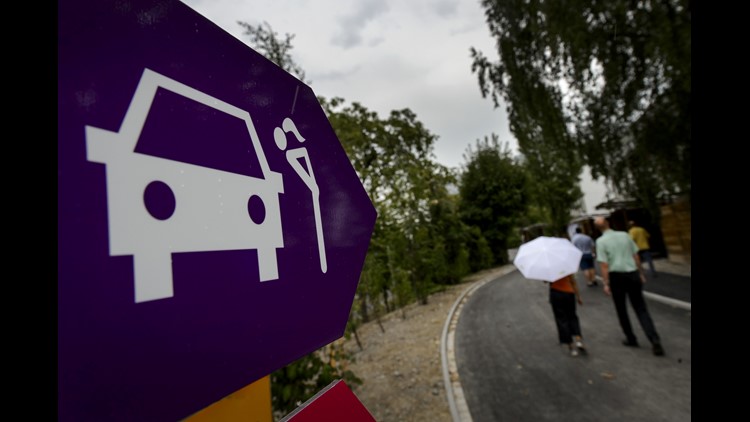 Fabrice Coffrini, AFP/Getty Images
Prostitutes, in turn, are expected to pay taxes and contribute to their Social Security funds. They must also register with public health authorities and undergo regular health checks.
To work in Zurich, prostitutes must fill out a permit request, which is available on the town's website in several languages, including English.