Researchers led by a team from The University of Texas Medical Branch at Galveston were able to dramatically reduce the pain of fibromyalgia patients with medication that targeted insulin resistance.
This discovery could dramatically alter the way that chronic pain can be identified and managed. Dr. Miguel Pappolla, UTMB professor of neurology, said that although the discovery is very preliminary, it may lead to a revolutionary shift on how fibromyalgia and related forms of chronic pain are treated.
The new approach has the potential to save billions of dollars to the health care system and decrease many peoples' dependence on opiates for pain management.
The UTMB team of researchers, along with collaborators from across the U.S., including the National Institutes of Health, were able for the first time, to separate patients with fibromyalgia from normal individuals using a common blood test for insulin resistance, or pre-diabetes.
They then treated the fibromyalgia patients with a medication targeting insulin resistance, which dramatically reduced their pain levels. The study was recently published in PLOS ONE.
Fibromyalgia is one of the most common conditions causing chronic pain and disability.
What is Fibromyalgia?
Fibromyalgia (fibrositis, myofibrocytis) is a chronic, painful muscle condition characterized by pain in the skeletal muscles, tendons (which attach muscles to bones), ligaments (which attach bones to bones) and other and bursa (sac-like structures which are filled with synovial fluid and provide lubrication and nutrition to joints).
Recently, much has been written about this disorder in health magazines and newspapers.
Although Hippocrates first described fibromyalgia, it has been only in the last few years that much attention (and credence) has been given to this syndrome.
Symptoms
Fibromyalgia is characterized by generalized muscle soreness and stiffness lasting more than three months, poor sleep with morning fatigue and stiffness, tenderness at 11 of 18 specific sites, and normal blood test results.
The more common painful areas are the low cervical spine, the shoulder, the second rib, the arm, the buttocks and the knee.
These symptoms are often worsened by stress or a change in the weather.
Depression, which may be due to a chemical imbalance in the brain or the development of chronic pain, is common with fibromyalgia.
Virtually all physical activity not only increases the patient's pain complaints, but also makes the next few days miserable, producing intense muscle pain.
Causes
Fibromyalgia may be caused by physical trauma (such as a motor vehicle accident, a sudden fall, or even the trauma of surgery with a general anesthetic).
This terrible disorder may also begin after an illness like the flu.
Often, women experience the effects of fibromyalgia due to hormonal changes after a hysterectomy or around the time of the beginning of menopause.
Also, the sudden emotional trauma of the loss of a loved one may trigger fibromyalgia.
Many "experts" feel that fibromyalgia effects only those people with "Type A" personalities, but this notion has not been demonstrated either by statistics or by scientific experimentation.
It may plague people with all types of personalities and life styles, all age ranges, and those in all states of health. However, many of those suffering with fibromyalgia also suffer with TMJ.
Conditions Associated with Fibromyalgia 
Many other physical conditions are found frequently along with fibromyalgia.
Each of these can and do occur separately; however, they are also quite commonly associated with fibromyalgia.
TMJ: Many patients suffering with TMJ problems also sufferer with fibromyalgia. Unfortunately, many doctors (1) don't recognize either TMJ or fibromyalgia or (2) fail to see the connection of these two pain syndromes. Fibromyalgia almost always intensifies the painful symptoms of TMJ and when one or both temporomandibular joints are dislocated, the pain of fibromyalgia in the neck and upper back is greatly magnified. Both TMJ and fibromyalgia produce similar painful symptoms in the muscles of the neck, shoulders, back, face and head as well as often causing dizziness.
Chronic Fatigue Syndrome: This debilitating disorder, just like fibromyalgia and TMJ, is often misdiagnosed and at best, misunderstood by many medical professionals. In addition to chronic fatigue, CFS, just like fibromyalgia, produces muscle pain and weakness.
Irritable Bowel Syndrome: Nearly half of all patients with fibromyalgia have frequent bowel cramping, severe diarrhea, and severe abdominal pain.
Depression: As with most conditions which produce chronic pain, depression is a common problem with fibromyalgia. Common depression symptoms include a feeling of low self esteem, helplessness, hopeless-ness, poor appetite, loss of sexual drive, sleeplessness, frequent crying, and basic lack of interest in life.
Anxiety Disorder and Panic Attacks: Often, those afflicted with fibromyalgia also experience extreme anxiety and panic attacks, especially at nighttime. They may awaken in terror with their heart beating rapidly, their chest feeling tight with a feeling as if breathing is impossible. The patient will be convinced that they are going to die. There are many causes of such attacks, and perhaps alterations in certain body chemicals produced in excess with fibromyalgia may be one cause.
Concentration and Memory Problems: Like those suffering with severe TMJ, patient with fibromyalgia often report difficulty in thinking and even remembering. They often forget where they've parked the car at the mall, for example. Simple facts and numbers are often forgotten. Understandably, great frustration often accompanies these memory problems.
Irritable Bladder: Those with fibromyalgia often complain of frequent, painful urination. Although they feel as if their bladder is infected, urine and blood tests are negative.
Mitral Value Prolapse: There may be a statistical correlation with those suffering with mitral value prolapse (a weakness in the mitral value of the heart) and fibromyalgia. Since the mitral value is mostly fibrous connective tissue, perhaps the same process that effects other connective tissue of the body (eg, muscles, ligaments, tendons and bursae) also damages the mitral value of the heart.*
Fibrocystic Breast Disease and Endometriosis: Although there is no known explanation (yet!), both fibrocystic disease of the breast and endometriosis are often seen in women with fibromyalgia.*
The global economic impact of fibromyalgia is enormous – in the U.S. alone and related health care costs are about $100 billion each year.
Despite extensive research, the cause of fibromyalgia is unknown, so there's no specific diagnostics or therapies for this condition other than pain-reducing drugs.
"Earlier studies discovered that insulin resistance causes dysfunction within the brain's small blood vessels.
Since this issue is also present in fibromyalgia, we investigated whether insulin resistance is the missing link in this disorder," Pappolla said.
"We showed that most – if not all – patients with fibromyalgia can be identified by their A1c levels, which reflects average blood sugar levels over the past two to three months."
Pre-diabetics with slightly elevated A1c values carry a higher risk of developing central (brain) pain, a hallmark of fibromyalgia and other chronic pain disorders."
The researchers identified patients who were referred to a subspecialty pain medicine clinic to be treated for widespread muscular/connective tissue pain.
All patients who met the criteria for fibromyalgia were separated into smaller groups by age.
When compared with age-matched controls, the A1c levels of the fibromyalgia patients were significantly higher.
"Considering the extensive research on fibromyalgia, we were puzzled that prior studies had overlooked this simple connection," said Pappolla.
"The main reason for this oversight is that about half of fibromyalgia patients have A1c values currently considered within the normal range.
However, this is the first study to analyze these levels normalized for the person's age, as optimal A1c levels do vary throughout life.
Adjustment for the patients' age was critical in highlighting the differences between patients and control subjects."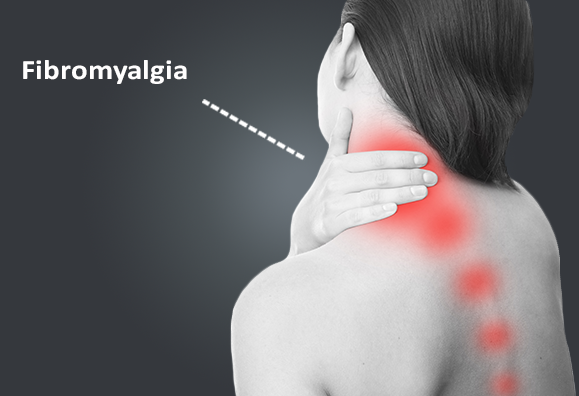 Pre-diabetics with slightly elevated A1c values carry a higher risk of developing central (brain) pain, a hallmark of fibromyalgia and other chronic pain disorders.
The image is adapted from the UT Medical Branch Galveston news release.
For the fibromyalgia patients, metformin, a drug developed to combat insulin resistance was added to their current medications.
They showed dramatic reductions in their pain levels.
Other authors include UTMB's Clark Andersen and Xiang Fang as well as Laxmaiah Manchikanti from Louisiana State University School of Medicine Health Sciences Center; Nigel Greig from the National Institutes of Health; Fawad Ahmed from St. Michael's Pain & Spine Clinics; Michael Seffinger from the College of Osteopathic Medicine of the Pacific and Andrea Trescot from the Pain and Headache Center in Eagle River, Alaska.
Source:
UT Medical Branch Galveston
Media Contacts:
Donna Ramirez – UT Medical Branch Galveston
Image Source:
The image is adapted from the UT Medical Branch Galveston news release.
Original Research: Open access
"Is insulin resistance the cause of fibromyalgia? A preliminary report". Miguel A. Pappolla, Laxmaiah Manchikanti, Clark R. Andersen, Nigel H. Greig, Fawad Ahmed, Xiang Fang, Michael A. Seffinger, Andrea M. Trescot.
PLOS ONE doi:10.1371/journal.pone.0216079