Nematodes, worms found in virtually all environmental habitats, are among the most studied model organisms.
They reproduce quickly and their genome contains nearly the same number of genes as the human genome.
A new Tel Aviv University study finds a mechanism exhibited in nematodes allows the nervous system cells – neurons – to communicate with germ cells, the cells that contain the information (genetic and epigenetic) that is transmitted to future generations.
The research identifies the mode by which neurons transmit messages to these future generations.
The study was led by Prof. Oded Rechavi of TAU's George S. Wise Faculty of Life Sciences and Sagol School of Neuroscience, and was published in Cell on June 6.
"The mechanism is controlled by small RNA molecules, which regulate gene expression," says Prof. Rechavi.
"We found that small RNAs convey information derived from neurons to the progeny and influence a variety of physiological processes, including the food-seeking behavior of the progeny.
"These findings go against one of the most basic dogmas in modern biology.
It was long thought that brain activity could have absolutely no impact on the fate of the progeny.
The Weismann Barrier, also known as the Second Law of Biology, states that inherited information in the germline is supposed to be isolated from environmental influences."
According to the study, co-authored by Prof. Rechavi's students Rachel Posner and Itai A. Toker, this is the first time a mechanism has been identified that can transmit neuronal responses across generations.
The discovery may have major implications for our understanding of heredity and of evolution.
"In the past, we've found that small RNAs in worms can produce transgenerational changes, but the discovery of a transgenerational transfer of information from the nervous system is a Holy Grail," explains Toker. "
The nervous system is unique in its ability to integrate responses about the environment as well as bodily responses. The idea that it could also control the fate of an organism's progeny is stunning."
"We discovered that synthesis of small RNAs in neurons is needed for the worm to efficiently be attracted to odors associated with essential nutrients – to look for food.
The small RNAs produced in the parents' nervous system influenced this behavior, as well as the expression of many germline genes that persisted through at least three generations," explains Prof. Rechavi.
In other words, nematodes that did not create the small RNAs exhibited defective food identification skills.
When the researchers restored the ability to produce small RNAs in neurons, the nematodes moved toward food efficiently once again.
This effect was maintained for multiple generations even though the progeny did not have the ability to produce small RNAs themselves.
"It's important to stress that we don't know yet whether any of this translates to humans," Prof. Rechavi concludes.
"If it does, then studying the mechanism could have a practical use in medicine. Many diseases might have some epigenetically inherited component.
Deeper understanding of nonconventional forms of inheritance would be crucial to better understand these conditions and to design better diagnostics and therapies."
"It would be fascinating to see if specific neuronal activities can impact the inherited information in a way that would give specific advantages to the progeny," Toker adds.
"Through this route, parents could potentially transmit information that would be beneficial to the progeny in the context of natural selection.
It could therefore potentially influence an organism's evolutionary course."
---
UCLA biologists report they have transferred a memory from one marine snail to another, creating an artificial memory, by injecting RNA from one to another. This research could lead to new ways to lessen the trauma of painful memories with RNA and to restore lost memories.
"I think in the not-too-distant future, we could potentially use RNA to ameliorate the effects of Alzheimer's disease or post-traumatic stress disorder," said David Glanzman, senior author of the study and a UCLA professor of integrative biology and physiology and of neurobiology. The team's research is published May 14 in eNeuro, the online journal of the Society for Neuroscience.
RNA, or ribonucleic acid, has been widely known as a cellular messenger that makes proteins and carries out DNA's instructions to other parts of the cell. It is now understood to have other important functions besides protein coding, including regulation of a variety of cellular processes involved in development and disease.
The researchers gave mild electric shocks to the tails of a species of marine snail called Aplysia. The snails received five tail shocks, one every 20 minutes, and then five more 24 hours later. The shocks enhance the snail's defensive withdrawal reflex, a response it displays for protection from potential harm.
When the researchers subsequently tapped the snails, they found those that had been given the shocks displayed a defensive contraction that lasted an average of 50 seconds, a simple type of learning known as "sensitization."
Those that had not been given the shocks contracted for only about one second.
The life scientists extracted RNA from the nervous systems of marine snails that received the tail shocks the day after the second series of shocks, and also from marine snails that did not receive any shocks.
Then the RNA from the first (sensitized) group was injected into seven marine snails that had not received any shocks, and the RNA from the second group was injected into a control group of seven other snails that also had not received any shocks.
Remarkably, the scientists found that the seven that received the RNA from snails that were given the shocks behaved as if they themselves had received the tail shocks: They displayed a defensive contraction that lasted an average of about 40 seconds.
"It's as though we transferred the memory," said Glanzman, who is also a member of UCLA's Brain Research Institute.
As expected, the control group of snails did not display the lengthy contraction.
A new theory of memory storage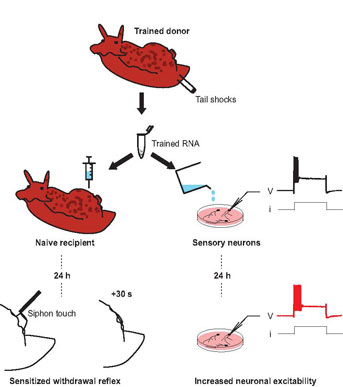 Next, the researchers added RNA to Petri dishes containing neurons extracted from different snails that did not receive shocks.
Some dishes had RNA from marine snails that had been given electric tail shocks, and some dishes contained RNA from snails that had not been given shocks.
Some of the dishes contained sensory neurons, and others contained motor neurons, which in the snail are responsible for the reflex.
When a marine snail is given electric tail shocks, its sensory neurons become more excitable. Interestingly, the researchers discovered, adding RNA from the snails that had been given shocks also produced increased excitability in sensory neurons in a Petri dish; it did not do so in motor neurons.
Adding RNA from a marine snail that was not given the tail shocks did not produce this increased excitability in sensory neurons.
In the field of neuroscience, it has long been thought that memories are stored in synapses. (Each neuron has several thousand synapses.)
Glanzman holds a different view, believing that memories are stored in the nucleus of neurons.
"If memories were stored at synapses, there is no way our experiment would have worked," said Glanzman, who added that the marine snail is an excellent model for studying the brain and memory.
Scientists know more about the cell biology of this simple form of learning in this animal than any other form of learning in any other organism, Glanzman said.
The cellular and molecular processes seem to be very similar between the marine snail and humans, even though the snail has about 20,000 neurons in its central nervous system and humans are thought to have about 100 billion.
In the future, Glanzman said, it is possible that RNA can be used to awaken and restore memories that have gone dormant in the early stages of Alzheimer's disease. He and his colleagues published research in the journal eLife in 2014 indicating that lost memories can be restored.
There are many kinds of RNA, and in future research, Glanzman wants to identify the types of RNA that can be used to transfer memories.
Co-authors are Alexis Bédécarrats, a UCLA postdoctoral scholar who worked in Glanzman's laboratory; and Shanping Chen, Kaycey Pearce and Diancai Cai, research associates in Glanzman's laboratory.
The research was funded by the National Institute of Neurological Disorders and Stroke, the National Institute of Mental Health and the National Science Foundation.
---
More information: Rachel Posner et al, Neuronal Small RNAs Control Behavior Transgenerationally, Cell (2019). DOI: 10.1016/j.cell.2019.04.029
Journal information: Cell
Provided by Tel Aviv University