A new analysis conducted by investigators at the Cedars-Sinai Smidt Heart Institute shows for the first time that patients with a common heart defect who undergo catheter-based valve replacement procedures have the same survival and complication rates as patients without the defect who undergo the same procedure.
Published June 11 in JAMA: The Journal of the American Medical Association, the analysis compares outcomes for 2,726 patients born with a bicuspid aortic valve-two leaflets that open and close with every heartbeat-with 79,096 patients born with the normal three leaflets on their aortic valves.
Both groups of patients were diagnosed with aortic stenosis, a stiffness of the valve's leaflets that reduces the ability to fully open and close and causes the heart's aortic valve to narrow and the heart muscle to become thicker and sometimes weaker.
Aortic stenosis usually affects people 60 and older, but patients born with bicuspid aortic valve often experience it at a younger age. About 1% of the population is born with bicuspid aortic valve.
TAVR (transcatheter aortic valve replacement) is a minimally invasive, catheter-based procedure during which an interventional cardiologist repairs the valve by placing a new valve into the aorta.
For patients with normal aortic valves, the procedure is generally considered less risky and easier to recover from than open-heart surgery.
But until now, there was not enough data to prove the TAVR procedure also is safe for patients with bicuspid valves.
"In our analysis, we looked at all the bicuspid anatomy patients and found that death rates were no different than patients who had the normal number of leaflets and TAVR," said Raj Makkar, MD, vice president of Cardiovascular Innovation and Intervention at Cedars-Sinai and the Stephen R. Corday Chair in Interventional Cardiology.
"This is important because many of the pivotal studies on TAVR did not include bicuspid patients due to concern that these valves may not expand and work in fish-mouth like narrowing in bicuspid anatomy."
The analysis also showed that bicuspid patients were slightly more likely than tricuspid patients to have a stroke within 30 days of the procedure.
Based on these findings, Makkar says "carefully selected patients with bicuspid aortic valve stenosis can be treated with TAVR, sparing them more invasive open-heart surgery and longer recovery times since most patients can be discharged home the day after the procedure."
Makkar's TAVR analysis of patients at 552 U.S. medical centers showed:
2.6% of bicuspid patients died within 30 days of the procedure, compared to 2.5% of tricuspid patients, a difference that is not statistically significant.
10.5% of bicuspid patients died within one year of the procedure, compared to 12% of tricuspid patients, a difference that is not statistically significant.
The 30-day stroke rate was higher for bicuspid patients (2.5%) than for tricuspid patients (1.6%).
The risk of procedural complications requiring open-heart surgery was significantly higher in the bicuspid group (0.9%) than the tricuspid cohort (0.4%).
Both groups experienced the same quality of life as measured by the Kansas City Cardiomyopathy Questionnaire.
"This study highlights a critical evaluation that may help some patients avoid unnecessary surgery and complications," said Eduardo Marbán, MD, Ph.D., director of the Smidt Heart Institute.
"Here at Cedars-Sinai, we put the patient first. Many, but not all, patients with bicuspid aortic valve are candidates for TAVR.
The care of each patient is individualized, and those who would benefit more from surgery will be appropriately managed by the appropriate faculty on our team."
---
Transcatheter Aortic Valve Replacement (TAVR)
The transcatheter aortic valve replacement (TAVR) is a less invasive treatment that doesn't involve open heart surgery to correct severe aortic stenosis, a life-threatening condition in which the heart valves do not fully open. As a result, your heart has to work harder to push blood through your body.
What is aortic stenosis?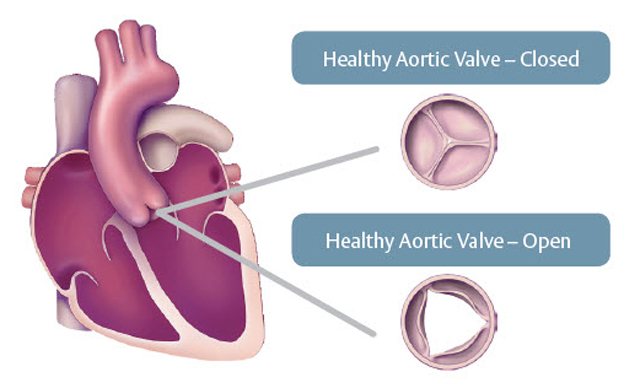 Each valve of your heart has two or three flaps of tissue, which open and close like gates to regulate the flow of blood through the heart in one direction.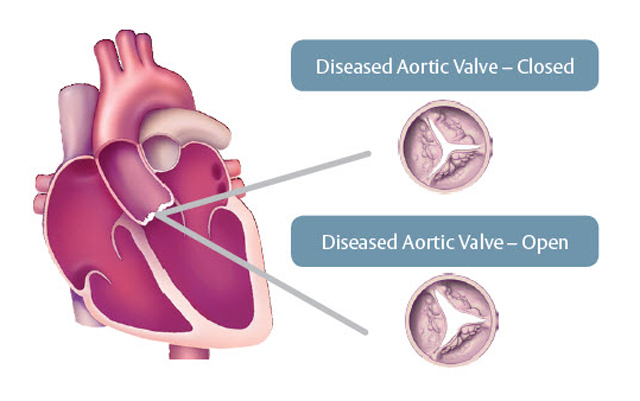 Aortic stenosis occurs when the valves lose their ability to open and close, making your heart work harder to push blood out to your body. As a result, less blood makes it to vital organs.
Symptoms and causes
When less oxygen-rich blood is making its way to your brain and lungs, it leads to symptoms such as:
Chest pain or tightness
Heart palpitations
Fatigue
Shortness of breath
Lightheadedness, feeling dizzy or fainting (syncope, a sudden loss of consciousness)
Difficulty when exercising
Difficulty walking short distances
Aortic stenosis has several possible causes, including:
Birth defect
Rheumatic fever
Radiation therapy
Age
Diagnosis
Diagnosis of aortic stenosis begins with an evaluation by your cardiologist, who will take your history and perform a physical exam.
Your cardiologist will then use noninvasive tests to make a diagnosis. Tests may include:
Transthoracic echocardiogram
Transesophageal echocardiogram
Cardiac catheterization
Stress test
CT scan
Treatments
Treating severe aortic stenosis is critical: Approximately 50 percent of people who develop the condition will die within two years without treatment.
Treatment typically involves either:
Open-heart surgery, which requires the use of a heart-lung machine to take over your heart function. During this procedure, the diseased valve is removed and a new valve is inserted.
Transcatheter aortic valve replacement (TAVR), which is a catheter-based technique to implant a new valve without open-heart surgery. During this procedure, an interventional cardiologist guides a new valve into the heart through an incision in the leg or chest.
Not everyone is a candidate for TAVR. Multiple factors specific to you will be used to determine which approach would be best, including the risk of the operation, your overall condition and any other conditions (comorbidities) you may have. TAVR should not be used if you cannot tolerate blood-thinning medications or if you have an active infection in the heart.
TAVR benefits
The benefits of TAVR include:
Less invasive approach without opening the chest wall or heart
Better heart function
Shorter recovery time
Faster return to daily activities
More independence
Insertion procedure
This video demonstrates how TAVR is inserted into your valve:
There are two approaches to TAVR insertion, which may be performed under conscious sedation:
Transfemoral approach. An incision on your upper leg is made to give the surgeon access to your femoral artery.
Transapical approach. An incision is made on the chest between the ribs to access the lowest part of your heart, called the apex.
Your heart team will evaluate you and recommend which approach would best suit you.
After insertion, you will be hospitalized for about two to three days.
After the procedure
Your UCI Health heart team, which includes a cardiologist, cardiothoracic surgeon, TAVR coordinator and echocardiographer, will discuss and guide your plan of care throughout all stages of the TAVR. They will provide specific instructions to help you with your recovery.
After the procedure, you will stay in the hospital for a few days. During this time, your care team will manage your pain and assist you with sitting up, walking and breathing.
After you are discharged, regular checkups with your physician are important to ensure that your TAVR is functioning properly. If you have any problems such as bleeding, pain, discomfort or other changes in your health, call your doctor as soon as possible.
Always tell your other doctors about your heart valve replacement before any medical, dental or MRI procedures. Failure to do this can result in injury or death.
---
Provided by Cedars-Sinai Medical Center