In a small pharmaceutical lab in Jerusalem, a complex construction of rubber tubes, pumps and a brass pipe sits on a worktop.
A prototype device, its purpose is to "smoke" cannabis to remove its active constituents and turn them into powder, with the hope that the resulting product can be used for pain relief in young cancer patients.
The Izun lab offers a glimpse of the ambition by Israeli researchers to corner the rapidly burgeoning new global market in medical marijuana, a market its proponents argue soon could be worth almost $20bn (£16bn) annually by 2020 in the US alone.
Their aim is not simply to take part in a hugely lucrative market, but to transform the medical marijuana industry into a serious endeavour of pharmaceutical research, producing new strains and drugs able to alleviate the symptoms of of cancer, Parkinson's disease, insomnia and other conditions.
Already, the "green rush" has seen about 500 companies apply to exploit cannabis products since February, when the Israeli government gave the green light to proceed with legislation that would allow its cultivation, manufacture and export.
It is a move that has seen the US and others invest almost $100m in the last year into Israel's nascent medical marijuana startups, as new territories, including individual US states such as California, open up to both medical use of the drug and its decriminalisation.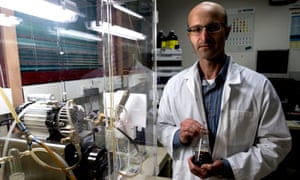 That in turn has seen the establishment of more than 100 studies in Israel examining the drug's usefulness.
In the offices of Izun, Saul Kaye, chief executive of iCAN, a private Israeli research hub that has been at the forefront of the push for a change in the law, explains the rapid shifts both in Israeli government policy and in interest in research in Israel into the drug, which Kaye believes will attract up to $1bn in investment in the next few years as the startups win official licences.
One factor driving the explosion of Israel's research into medical cannabis is that – in contrast to the US, which is currently the biggest legal marijuana market – authorities in Israel have emerged as far more liberal in their support of research and development.
"Why is Israel leading the world?" asks Kaye. "A key reason is that we have the history.
We have the oldest medical marijuana programme here, which started in 1996 officially. Another reason is a broad acceptance across all Israeli demographics because it is seen as helping people."
And in a relatively new field, with no universal clinical standard, Israel aims to fill the void by combining its expertise in agriculture, technology and cannabis-based medicine, according to Yuval Landschaft, head of the health ministry's medical cannabis unit (IMCA).
"In the United States, for example, they use recreational marijuana for medical use – that's like making chicken soup when you have a cold," Landschaft recently told Reuters. "We're the ones making the antibiotics."
It is a point taken up by William Levine of CannRx, part of Izun, one of the new companies involved in research into new medical uses for marijuana.
"What we are trying to do," he says, "is identify which parts of the plant are effective [for different conditions] and improve their efficacy.
"Cannabis is a spectacularly pharmaceutically active botanical.
We have already identified very potent cannabinoid profiles which have specific applications to certain conditions like sleep problems, pain and appetite control, and issues associated with Parkinson's and other neurodegenerative conditions."
The promise of the new industry and treatment regimes is already being demonstrated by Tikun Olam at its clinic in a quiet sidestreet of Tel Aviv.
Israel's oldest medical cannabis clinic and production company – whose name references the Jewish religious principal of "healing the world" – has been going for 10 years and now has 9,000 patients, including several hundred children.
The company's chief scientist, Zvi Bentwich, one of the early proponents of the medical use of cannabis in Israel, believes acceptance of the utility and research into cannabis has turned a corner after decades in which it was regarded as beyond the pale.
What scientists have been discovering, he says, is that the constituent elements of cannabis – sometimes working in isolation, sometimes together – have multiple medical applications for a range of conditions, from colitis to epilepsy, autism and a host of others. "What has changed is that clinical trials of cannabinoids accepted to the golden standard double-blind testing in a clinical situation – which had been very limited – have expanded in the last 10 years."
Aharon Lutsky, chief executive of Tikun Olam, sees huge potential for growth. His company is already working in partnership with others around the globe.
"I believe the use will increase dramatically," he says.
"It is a very good medicine with minor negative effects, which is already helping with the treatment of a large number of diseases.
When I look at public opinion, five years ago it was against its use, with even patients hesitant. Now it is regarded as very legitimate."
That view is shared by Emile Shalit, aged 52, a patient who has already benefited from treatment with cannabis derivatives.
Diagnosed 20 years ago with ulcerative colitis, he found that other drugs and even surgery failed to halt the problem.
As a non-user of cannabis, he was accepted for a double-blind research programme, which he opted to take. "It improved my symptoms immediately," he says.
"I can sleep at night with no stomach pain and it seems to have helped with the inflammation.
I can take medicine, then go for a three-hour ride on my bike.
I don't need to be close to the bathroom all the time."