The Vostok-2018 war games in eastern Siberia last month marked Russia's biggest military exercise in more than 30 years, with about 300,000 Russian, Chinese and Mongolian troops taking part.
More than just an exercise, the war games were a public relations opportunity to showcase military hardware, Russia's second-biggest source of income after oil.
Russian personnel of the 76th Air Defense Division conducted practice intercepts against 30 missiles and other aerial threats designed to simulate a massed attack by enemy capabilities.
The threats flew at altitudes ranging from 100 meters to several kilometers.
Interceptors were fired from the Buk M-2, Tor, Pantsir-S, S-300, and S-400 systems.
The Ministry of Defense reported that all targets were destroyed.
During Vostok-2018, Russia showed off the S-400 surface-to-air missile, one of the country's most advanced and marketable weapons systems in recent years.
The S-400 is a massive upgrade to the S-300, its predecessor which was recently sent to Syria.
Because of its capabilities, several countries including China, Saudi Arabia, Turkey, India and Qatar have said they are willing to buy the S-400.
Essentially, the S-400 is a technologically more advanced variation of the Soviet S-300P anti-aircraft system.
It began as a late 1980s upgrade program, only to emerge in the mid 90s as the S-300PMU-3.
It was not until it entered its final phases in the mid-2000s that it was decided the advances made were so significant, it qualified for a designator: the S-400.
The S-400 features significantly improved and advanced radar systems, enhanced speed, and high-resolution imagery over its direct predecessors the S-300PM2 and S-300PMU2.
All in all, the S-400 missile defense system is extremely effective, with sharp accuracy that can quickly destroy incoming high-value targets like drones, ballistic missiles, and aircraft.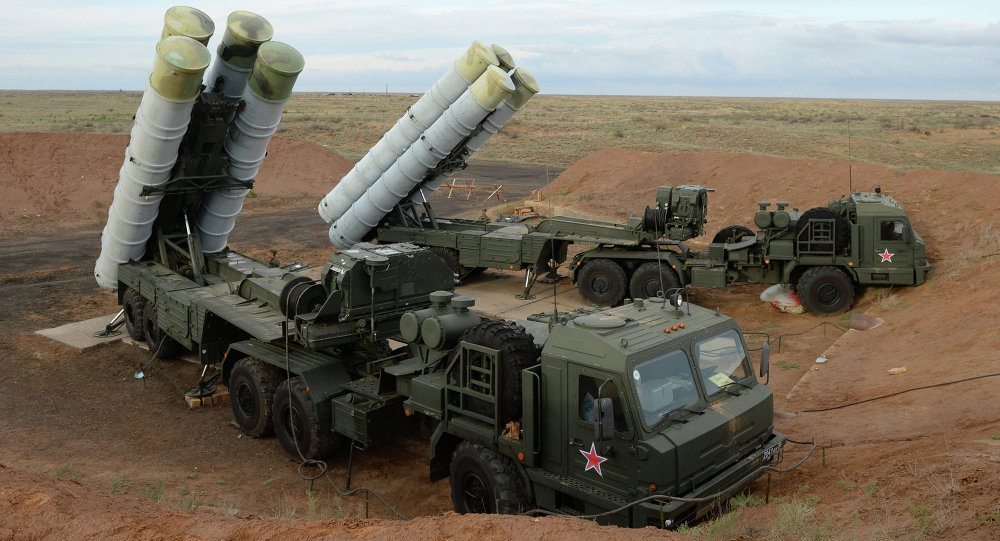 RUSSIA'S WIDELY-USED S-300 MISSILE SYSTEM WAS REPLACED BY THE S-400 MISSILE SYSTEM, AND IS BELIEVED TO HAVE AN INCREASED MAXIMUM RANGE OF 400 KILOMETERS. [SOURCE: SPUTNIK NEWS / MIHAIL MOKRUSHIN]
Almost every government that announced it was planning to buy the system was threatened with some kind of diplomatic retaliation from the US, NATO or adversaries.
The reason for this blowback is not only because the S-400 is technologically advanced, it also poses a potential risk for long-standing alliances.
In the case of Turkey, Ankara signed an agreement with Moscow to purchase the new S-400 Missile Defense System in December 2017, creating a political debacle.
As a NATO ally, Turkey was actively participating in U.S. Foreign Military Sales (FMS) programs like the F-35 Joint Strike Fighter procurement, yet it had agreed to purchase Russia's S-400 system worth roughly $2.5 billion.
In response, the U.S Senate Committee on Armed Services considered temporarily removing Turkey from being part of the F-35 program under the National Defense Authorization Act (NDAA) so as to send a strong message that the United States will not integrate their most advanced stealth jet fighter with a Russian capability.
An S-400 integration with an F-35, the committee argued, could put the United States and NATO at operational risk by potentially disclosing intelligence and complicating interoperability.
Additionally, the NATO Secretary-General stated that it would be very difficult to integrate the S-400 missile defense system with NATO's air defense architecture.
All NATO members have pledged to integrate military equipment to ensure that all systems work together.
It is vital that all NATO equipment must maintain mutual standards.
These standards are developed based on long term joint planning, exercises and training.
An S-400 integration would disrupt joint information sharing, command and control, and protection of missile interceptors and radars.
In response to these concerns, India has requested a CAATSA waiver through the Trump Administration.
Reliant on Moscow as one of its top defense suppliers (more than sixty percent of its defense articles are Russian imports), India is interested in the S-400, yet has been feeling pressure from the U.S., which officially considers India a regional, democratic ally.
New Delhi remains instrumental in some of America's top national security priorities, including its regional approach in Afghanistan and India's strategic importance in the U.S. Indo-Pacific defense strategy.
Meanwhile, Qatar and Russia have discussed a deal in purchasing the S-400 along with small arms and grenades.
This is understandably alarming for Washington defense insiders, as the U.S. has been strengthening its defense ties with Doha for over twenty years.
Qatar has been a vital partner in Operation Inherent Resolve by hosting one of the largest U.S. military bases in the Middle East and is complementary in joint air operations in Syria and Iraq. Qatar is also involved in many U.S. arms deals, including U.S. helicopters, C17 engines and equipment, and McDonnell Douglas F-15 Eagles.
Growing interest in the S-400 has also provoked greater scrutiny about Russian competition against the highly competitive U.S. defense security cooperation.
Since the authorization of the Arms Export Control Act of 1963, the U.S. has relied on FMS procurement as a national security priority in maintaining its alliance system. Consequently, the U.S. has spent decades and billions of dollars transferring defense articles and services to its allies.
This practice must continue because Russia understands the power of FMS cases and is willing to counter it by developing and selling competitive capabilities to U.S. allies.
So far, Russia has successfully expanded its efforts in the Middle East by aggressively pursuing and securing arms deals with the Gulf states of Egypt, Morocco, and Tunisia.
S-400 defence systems
"The S-400 is among the most advanced air defence systems available, on par with the best the West has to offer," said Siemon Wezeman, senior researcher with Stockholm International Peace Research Institute's (SIPRI) arms transfers and military expenditure programme.
"Its radars and other sensors, as well as its missiles, cover an extensive area – the radar has a range of at least 600km for surveillance, and its missiles have ranges of up to 400km,".
"It's precise and it manages to track a very large number of potential targets, including stealth targets."
Other advantages are its modular setup and high mobility, meaning it can be set up, fired and moved within minutes.
The S-400 is among the most advanced air defence systems available, on par with the best the West has to offer.

SIEMON WEZEMAN, SIPRI
"It's intended to be a one-size-fits-all missile system.
It can be configured with long-range, semi long-range, medium-range and even short-range weapons systems, depending on how the individual user wishes to configure the S-400," Kevin Brand, military analyst working with the Council on Foreign Relations.
"It's very rugged, it's adaptable and it's a road-mobile system, something many countries are seeking to evolve to."
Turkey, a NATO member, is one of the most significant potential buyers of the S-400.
Speaking at a graduation ceremony for military officers, Turkey's President Recep Tayyip Erdogan said in August that Ankara would try to procure the missile system as soon as possible, which according to Russia will be in 2019.
But Turkey's interest in the Russian missile system spooked its Western NATO allies, for technical and political reasons.
Turkey's interest in the Russian missile system spooked its Western NATO allies, for technical and political reasons. [Vasily Fedosenko/Reuters]
"In the technological sense, the S-400 would certainly be a step forward [for Turkey], but it's not necessarily in the best interest of NATO to have that weapons system integrated within its broader architecture," Brand said.
The S-400 could lead to a potentially dangerous situation, Brand explained.
"When you look at the Russian S-400 system, especially in a NATO structure, there's a scale of difficulty when integrating it into the bigger defence system,".
"If you take it as a very benign situation, the simplest scenario is that its data might not be able to be incorporated into the defensive architecture that is currently used by NATO. That's probably the best worst-case scenario."
NATO relies heavily on several systems working together in a larger network.
"[Adding the S-400] might complicate the picture, it might pollute the view that bigger system is giving you."
But, potentially more harmful, there is the risk that Russia has ill intentions, Brand said.
"What kind of contracts would be in place with Russian technicians taking care of the S-400, for example, would Russian maintenance personnel have access to [NATO] data?
"The worst-case scenario is that there might be vulnerabilities associated with that system that could be exploited by a potential adversary.
"Plugging it in could potentially actively compromise your own defensive network."
For India, Saudi Arabia and Qatar, who are not part of an alliance such as NATO, buying a system like the S-400 would lead to fewer technological issues, but they could risk diplomatic and economic repercussions from the US.
In 2017, the US implemented the Countering America's Adversaries Sanctions Act (CAATSA) in a response to alleged Russian interference in the 2016 US presidential elections and military involvement in both Ukraine and Syria.
CAATSA allows the US to act against individuals, companies or countries that are "disturbing international security".
The US is looking to isolate Russia following on from the events in Ukraine and beyond

CHARLES FORRESTER, JANE'S BY IHS MARKIT
The US Department of State has said Chinese purchases of SU-35 aircraft and S-400 surface-to-air missiles breached the CAATSA, only weeks after it said India might be subject to sanctions if it continues with purchasing the system.
However, India decided earlier this week to buy the weapons system.
"India places top priority on ties with Russia.
In today's fast-changing world, our relationship assumes heightened importance," India Prime Minister Narendra Modi told Russia President Vladimir Putin after they signed the $5bn deal.
According to SIPRI's Wezeman, the chances of the US following through on its threats of sanctions are slim, especially for countries like India or Saudi Arabia.
"The sanctions are not automatic and exemptions are possible if in the national interest of the US," he said.
"Sanctions are actually unlikely as India and others are too important as military and political partners for the US. Even limited sanctions would probably make those countries quite angry – angry enough to hurt US interests."
But even if economic sanctions are unlikely, upsetting the US could lead to a diplomatic spat.
"There is also a diplomatic issue here, as the agreement to sell sensitive technology to a country implies a wider alignment of a range of political issues, and that is why the US is looking to isolate Russia following on from the events in Ukraine and beyond," Charles Forrester, senior defence industry analyst at Jane's by IHS Markit told Al Jazeera.
For the US, these purchases form more than just a military threat – they are about countering Russia's involvement in global conflicts, but also about maintaining long-standing US diplomatic relations and preventing Russia receiving hard currency for its equipment, analysts said.
The US has been working at finding ways to strengthen its diplomatic responses on the world stage to countries that violate the global rules-based order,
CHARLES FORRESTER, JANE'S BY IHS MARKIT
"The US has been working at finding ways to strengthen its diplomatic responses on the world stage to countries that violate the global rules-based order," Forrester said.
So why would Turkey, India or any other country risk diplomatic relations with the US?
"India does not like to necessarily buy from one vendor and be overly dependent on one country, so from an Indian perspective geopolitically it does make sense to buy some systems from Russia and some from the US," Brand said.
"India also has a long-standing relationship as far as buying hardware from Russia, so they have a lot of experience with this equipment."
Another motive is sharing military technology, something the US is not eager to do, unlike to Russia.
"Russia is willing to supply S-400 to probably about anyone and to share technology to some extent," Wezeman explained, although he added that it is unclear how far this sharing would go.
And for Turkey especially, Wezeman said, the S-400 has become something of a vanity project.
"Not bowing to the US and NATO shows that Turkey is its own boss; that it can take on the US and NATO," Wezeman said.