Nankai University and scientific research teams of many domestic universities and related biomedical enterprises together successfully developed IgM/IgG antibody test kit for novel coronavirus (2019-nCoV).
The fast-testing card can finish the test within around 15 minutes and it also advances in its simple operation, easy reading and high sensitivity.
With this method, it is hopeful that the present nucleic acid detection method's limitation of people and place can be broken through.
When the time of testing is reduced, rapid diagnosis of suspected patients and on-site screening of close contacts can be both achieved.
When the 2019-nCoV epidemic broke out, Nankai University exploited its disciplinary advantages to the full. Led by the key laboratory's directors Prof. Quan Chen and Prof. Daiwen Pang, a collaborative team was soon organized.
They spent 7 days from dawn to dusk and successfully developed the new technology of 2019-nCoV testing.
Prof. Dan Ding's team from Nankai University's College of Life Sciences took the lead, and cooperated with Prof. Lei Zheng's team from Nanfang Hospital of Southern Medical University, Academician Prof. Benzhong Tang's team from South China University of Technology, and King-Focus Biomedical Ltd. Co. They together developed the fast IgM/IgG antibody test card for novel coronavirus (2019-nCoV).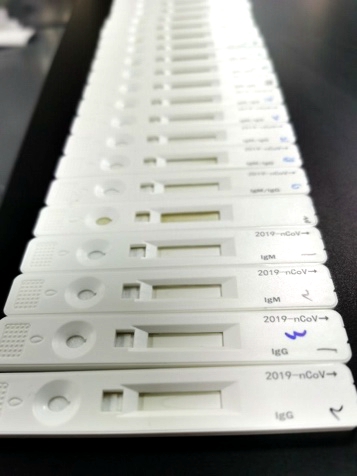 Figure: The Antibody Test Card for Novel Coronavirus Developed by Nankai University and other domestic units
The preliminary clinical test results showed that 30 (75%) of 40 patients with novel coronavirus were positive for antibody, including 16 (40%) for IgM and 28 (70%) for IgG, which were not detected in healthy controls and non-novel coronavirus diseases.
Since the discovery of novel coronavirus in Wuhan in December 2019, Nankai University has responded actively to the call of the country, gathering its advanced strength in disciplines such as biology, medicine, big data statistics, and carrying out epidemic prevention and control research in many aspects, such as vaccines and biological agents research, epidemic model prediction, etc.
At the present, they are progressing smoothly, and they are expected to be applied to the epidemic prevention and control as soon as possible.