Israeli startup Redefine Meat unveiled this week what it said was the world's first plant-based steak created using patent-pending 3D printing technology.
The Rehovot-based company said it will start testing the beef, which it calls Alt-Steak, at select high-end restaurants in Israel later this year.
The product will be offered as part of a chef's dish, with the option to order the printed plant-based steak instead of the regular meat choice, according to Redefine Meat CEO and co-founder Eshchar Ben-Shitrit.
With feedback from high-level chefs and butchers, the company said it will then ramp up production of its 3D meat printers and alt-meat formulations ahead of market distribution in 2021.
Founded in early 2018 as Jet Eat by "former meat consumer" Ben-Shitrit, Redefine Meat has sought to create a vegan meat alternative using digital processes in order to reduce meat consumption and keep food waste at bay.
The company developed tech for industrial 3D printing of vegan meat substitutes using plant-based formulations. By printing with multiple materials, Redefine Meat says it can create sustainable, high-protein, no-cholesterol steaks that look, cook, and taste like beef.
"Redefine Meat developed a unique 3D printing technology that the company uses to develop and manufacture Alt-Meat. The process brings together industry experience in food engineering and additive manufacturing with a digitally-driven machine – but that's the only similarity to 3D printing," Ben-Shitrit.
"The technology isn't about creating shape, but actually creating a macro-structure that can combine a desired texture with a desired flavor, in addition to several other sensory parameters that are required."
The company is committed to "creating a tasty and affordable plant-based alternative to steaks, one of the most cherished food products and the driver of the entire meat industry," Ben-Shitrit indicated in an earlier company statement.
"To enable mass adoption, we knew that creating an alternative meat product that was both high in quality and nutritional composition would require new technologies and production processes never seen before in the food industry," he added.
Redefine Meat works with leading butchers, chefs, food technologists, and in collaboration with Swiss flavors and fragrances manufacture, Givaudan, to digitally map more than 70 sensorial parameters into its Alt-Steak products, including appearance, texture, juiciness, fat distributions, and feel of premium beef cuts.
Collaborating with Givaudan has led to the creation of an Alt-Steak product that is not only "healthy and sustainable, but also offers the satisfying flavors, textures and aromas of eating actual meat," Ben-Shitrit added.
"Eating food, and especially beef, is considered the most complicated sensory experience," said Ben-Shitrit. "It essentially combines physical elements (texture, temperature, amount of liquid) with chemical elements (flavor, smell, taste).
If this isn't enough, they are all changing while we eat from the process of eating, and have interaction with each other. Replicating Beef requires getting a "good enough" score in almost all parameters simultaneously.
If you have the perfect texture but the flavor is sub-par, the score will not be 70 percent, it will be 0 percent.
We had to work hard to have great texture, and then combine the right flavor, and work on look, followed by cooking behavior. We still have room to improve on all fronts but have passed the threshold we believe was the most critical."
Redefine Meat uses special "ink" and 3D printers to print the steaks. The printers use three separate formulations, or "ink", which the company calls Alt-Muscle, Alt-Fat, and Alt-Blood, to print the meat. These formulations are made from natural, sustainable and widely-consumed plant-based ingredients, the company says.
Redefine Meat has a bank of special 3D models corresponding to different beef cuts. These models are loaded on the machine together with the Alt-Muscle, Fat, and Blood. The machine then starts the printing process according to the file, creating the food product dot by dot and then layer by layer "with a click of a button," Ben-Shitrit said.
"It's mesmerizing to see how at the beginning you have nothing, and then you have something. As simple as it sounds, in the food industry it doesn't work like that at all." he added.
Redefine Meat aims to sell printers and cartridges to distributors around the world and has started working on a factory in Israel to launch a future pilot. The plan is to launch pilots locally as well as in several European countries, Ben-Shitrit said.
Redefine Meat's new vegan steak announcement "marks the start of a new era in alternative meat – the Alt-Steak era – driven by production processes that will accelerate the development of a wide range of alt-meat whole muscle products and create a sustainable alternative to raising and eating animals," said Ben-Shitrit.
Alternative meat
Redefine Meat is one of several companies in the Israeli food tech sector focused on sustainable alternatives.
MeaTech for example, a company founded in 2018 in Ness Ziona uses stem cells from animals to print cultured meat and create alternative foods that doesn't involve harming animals.
The company announced in June that it raised nearly $6 million from investors, including one of Israel's largest supermarket chains, Rami Levy. MeaTech merged with Ophectra Real Estate and Investments in October and now trades on the Tel Aviv Stock Exchange.
Several Israeli startups are also working to develop "clean meat" solutions as an alternative to rising levels of meat consumption.
Israel's Aleph Farms, a clean meat company recognized last month among 100 global firms as part of the World Economic Forum's 2020 Technology Pioneers list, unveiled the world's first lab-grown steak prototype grown from animal cells using 3D technology in late 2018.
Israeli biotechnology startup SuperMeat is also developing lab-grown poultry extracted from the stem cells of a live chicken.
In October, Future Meat Technologies, an Israeli company that also develops lab-grown meat announced that it was opening the first cultured meat production plant near Tel Aviv later this year, backed by a major food company.
The company's tech is based on Professor Yaakov Nahmias' research at The Hebrew University of Jerusalem. Nahmias has said that Future Meat is the only company that can produce animal fat without harvesting animals and without genetic modification.
---
Aleph Farms: cell-based 3D printed meat
When it comes to selling the actual 3D printed meat, there is another Israeli startup that is planning on it – Aleph Farms, which is one of the leading companies in this sphere. After all, not every company can boast 3D printing meat in Space…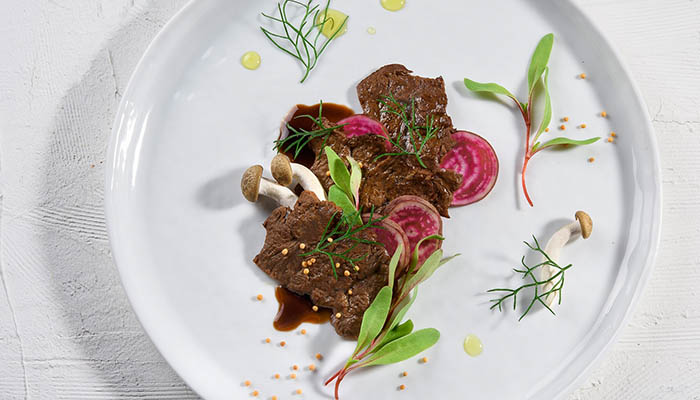 Image credits: Aleph Farms
Aleph Farms has recently developed a method that mimics the natural process of muscle-regeneration occurring inside the cow's body, but under controlled conditions. Different from the plant-based 3D printed meat, this technique uses bovine cells to replicate the taste, texture and look of meat.
Their innovative method involves mixing cells – fat cells, muscle fibers, blood vessel cells, and others – from which they generate a bio ink to use in the 3D bioprinting process.
NOVAMEAT: vegan and sustainable
This Spanish firm is famous for 3D printing vegan meat. Essentially, NOVAMEAT's technology manages to reorganize the nanofibers from vegetables' proteins to make them seem like animal proteins.
Typically, their "materials" for 3D printing include peas, seaweed, and rice. Not long ago, the Barcelona-based startup presented its 3D printed pork, which they called pork skewer 2.0.
To develop it, the company used a composition containing pea isolate, rice isolate, extra-virgin olive oil, brown seaweed extract, beet juice concentrate and natural aroma.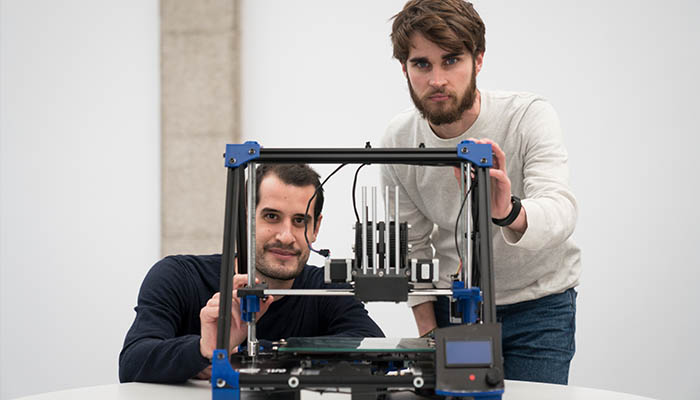 The meat is 3D printed using an extrusion based process. (Image credits: NOVAMEAT)
NOVAMEAT seeks to support a more humane and sustainable global food system through its technology. According to its CEO and co-founder, Guiseppe Scionti, the company is "testing alternative ingredients (proteins, fibers and oils) to tune the flavorings and improve sustainability. Demonstrating that our technology works with a variety of ingredients is aimed at supporting biodiversity, to fight unsustainable monocultures and deforestation practices."
MeaTech: mass production
Meanwhile, MeaTech is one of the newest entrants in the race for the best 3D printed meat. This Israeli startup is focused on 3D printing meat at scale, their focus is the industrial market. According to Sharon Fima, CEO and co-founder, the company's aim is to produce quickly, creating one unit every few seconds. He says, "Our goal is to show that 3D printing meat can be done in an industrial capacity."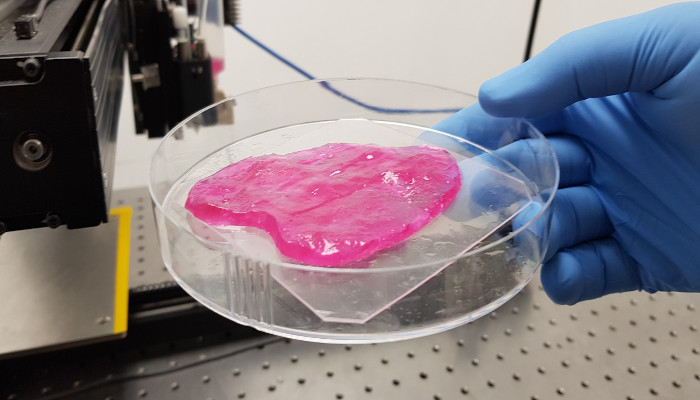 Image credits: MeaTech
With companies promising revolution in the production and consumption of meat, you might wonder when will their products leave the labs and "enter" your kitchen.
According to some industry players, such as MeaTech, 3D printing meat is still in its development stage and will be available for mass consumption no sooner than in 2-3 years.
So, don't expect to be able to buy 3D printed meat in your local supermarket just yet. But as Redefine Meat announced their Alt-Steak distribution to several European restaurants later this year, stay tuned for more news and reviews!