A landmark paper published today in the New England Journal of Medicine describes the results from a global trial across 148 sites in 23 countries, showing a 30 percent improvement in survival in patients with acute myeloid leukemia (AML).
The Phase 3 clinical trial called QUAZAR, showed that a drug, called CC-486, significantly improved survival in older patients, over the age of 55, with the disease. AML is the most acute blood cancer in adults and its incidence increases with age, with a poor prognosis. With current treatments, the majority of older patients will die of their disease within 2 years of diagnosis.
Around 20,000 people in the United States are diagnosed with AML every year.
The global trial, led by Professor Andrew Wei from Monash University's Australian Centre for Blood Diseases and a haematologist at Alfred Health, focused on people with AML over 55 years of age, "because of an unmet need to identify new agents able to improve outcome in patients after completing chemotherapy," he said.
"After intensive chemotherapy, the risk of AML relapse is high. Many older patients are not eligible to receive a stem cell transplant and so a less toxic option to reduce disease recurrence is desirable, rather than just being monitored and waiting for the disease to come back," he said.
"Based on the results of the QUAZAR study, it is very exciting to think that, by taking a tablet that is relatively well-tolerated, we can help reduce relapse risk and improve survival."
The trial involved 472 patients, with an average age 68 years, who were either given CC-486 or a placebo.
Those receiving the drug—which has the added advantage of being a tablet that can be taken at home – had an average survival from remission of almost 25 months compared to those who did not take the drug, whose average survival was almost 15 months.
Following Professor Wei's presentation of the results at the American Society for Hematology meeting in the United States in December 2019, the Food and Drug Administration fast-tracked approval for the use of CC-486 in the U.S in September this year.
Professor Wei says the data presented in the NEJM is likely to establish a new standard of care for older patients with AML, "because our findings show that CC-486 significantly delays recurrence of the disease, thereby prolonging survival and without impacting on quality of life".
"This is a very significant advance because the drug is easy to administer and means that adults with AML don't have to spend extra time in hospital," he said.
Professor Wei added the drug is currently not approved for use in Australia.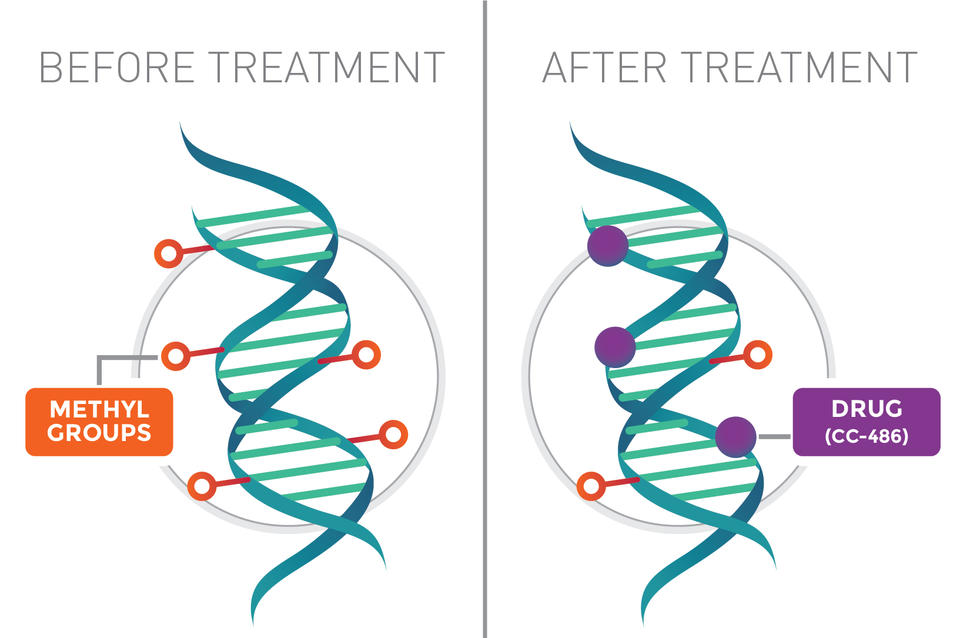 ---
Acute myeloid leukemia (AML) and myelodysplastic syndromes (MDS) are related myeloid neoplasms hallmarked by ineffective hematopoiesis and proliferation of malignant clones. Specifically targeting malignant clones while allowing for the preservation of normal hematopoiesis is critical in the design of new therapies.
In recent years, next-generation sequencing (NGS) has considerably improved our understanding of the molecular epidemiology and biologic roles of somatic alterations associated with AML and MDS; however, only a few targeted therapies have been successfully developed to address these liabilities.
Thus, the DNA methyltransferase inhibitors (DNMTis) azacitidine (AZA) and decitabine (DEC) have remained the standard first-line disease-modifying therapies across mutational subtypes in MDS, dysplastic chronic myelomonocytic leukemia, and AML for which induction chemotherapy is found to be inappropriate. At low doses, these drugs alter methylation within the transcriptionally active regions of the genome, reduce transcription of pro-growth genetic programs, and ultimately force cells out of the cell cycle. Standard regimens with the DNMTis AZA or DEC include daily subcutaneous (s.c.) or intravenous (i.v.) administration for 5–7 consecutive days [1–4].
The demands on patients for 5 consecutive days of a parenteral dosing strategy are not trivial. These patients experience pain associated with multiple i.v. punctures, associated risks of infection, bleeding, and thrombosis, and inconveniences associated with central catheters or s.c. infusion ports [5–7].
Moreover, when oral versus i.v. treatment strategies have been assessed in other malignancies, patients strongly preferred oral agents as long as efficacy was not significantly compromised [8, 9]. To this end, there has been significant interest in the development of an oral formulation of DNMTi, but attempts to provide the therapy orally have been limited given rapid clearance of the agents by the enzyme cytidine deaminase (CDA), which is ubiquitous in the gut and liver and critical in the function of first-pass metabolism [10].
CC-486 is an oral analog of AZA, and has been in development for over a decade. In phase I, dose-finding studies, the maximum tolerated dosage was 480 mg a day, but patients experienced grade 3–4 diarrhea, despite poor mean relative oral bioavailability [11].
Longer schedules of lower doses of CC-486 led to improved tolerability and area under the curve (AUC), but vastly different pharmacokinetics and methylation changes than seen with standard AZA, and disappointing efficacy as primary treatment [12, 13].
While the use of CC-486 as maintenance therapy post-induction for untreated AML has been encouraging and likely will lead to approval of CC-486 for patients who achieve a complete response (CR) after induction and have less than standard cytarabine consolidation cycles, oral CC-486 is not bioequivalent to i.v./s.c. AZA [14].
Another approach in the development of oral DNMTis is the co-administration of an oral DNMTi with a CDA inhibitor (CDAi) to limit degradation of AZA during first-pass metabolism after oral dosing. Inhibiting CDA with tetrahydrouridine (THU) has been attempted in sickle cell disease, preceding low-dose oral DEC; however, THU must be given 1 h prior to DNMTi, and is unstable in acidic environments [15].
In a recent dose-escalation study (NCT02103478), the simultaneous oral administration of the novel CDAi cedazuridine (CDZ) together with DEC approximated the pharmacokinetics of i.v. DEC in patients [16]. Global levels of demethylation as measured by bisulfate sequencing in long interspersed nuclear element-1 (LINE-1) demethylation assays revealed similar reduction [16].
In a phase III, randomized study, an oral fixed-dose combination (FDC) of DEC + CDZ 35 mg/100 mg (ASTX727) confirmed DEC systemic exposure equivalence with body-surface-area-adjusted i.v. DEC, with the intrapatient oral/i.v. AUC ratio being 98.9% (90% confidence interval 92.7–105.6) and similar efficacy between ASTX727 and i.v. DEC [17].
Similarly, here we show that the combination of oral AZA and CDZ is feasible in the preclinical setting and can be safely pursued in a clinical setting. The AUC achieved with AZA + CDZ was dose dependent, and pharmacokinetics in mice were similar between oral AZA + CDZ and intraperitoneal (i.p.) AZA. Likewise, decreases in LINE-1 methylation with oral AZA + CDZ were comparable to those seen with i.p. AZA.
Subsequently, human cell line-derived and primary patient-derived xenograft (PDX) models reveal that AZA + CDZ led to decreases in leukemic burden and improved survival of mice. Furthermore, the addition of venetoclax (VEN) to AZA + CDZ resulted in significant decreases in tumor expansion in an AML PDX, implying a potential all-oral administration of this emerging standard of care.
Discussion
Consistent with previous preclinical and clinical studies with DEC + CDZ (ASTX727) [16], oral AZA approximated bioavailability in mice and monkeys and had comparable pharmacodynamic and anti-tumor activity to i.p. AZA when given with the CDAi CDZ. Pharmacokinetic evaluation in male NSGS mice and cynomolgus monkeys demonstrated proof of concept for achieving higher AZA systemic exposures after oral co-administration with CDZ, and in monkeys, oral combination matched the exposures of AZA after the same parenteral dose.
In both species, relative bioavailability of oral AZA alone is very low, but was markedly enhanced (860–1400% in mice and 1630% in monkeys) when dosed with CDZ. These data reveal higher exposures at relatively low oral AZA doses when given with CDZ, avoiding the need to overcome CDA with high doses of single-agent AZA alone—a strategy originally pursued in the development of CC-486. With CC-486, doses were escalated in attempts to match PK/PD properties of AZA i.v./s.c. at approved doses, but this goal was not met and CC-486 led to considerable toxicity at higher doses [11].
Later attempts to administer a variety of dosing regimens was successful and revealed that CC-486 is active in patients with myeloid neoplasms [11, 13, 20, 21]. However, in the alternative dosing regimens, effects on DNA methylation were very different to those with standard AZA i.v./s.c. While dosing of CC-486 to overcome CDA activity and to achieve PK/PD equivalency was not successful due to dose-dependent off-target non-hematologic toxicities [11], the use of the drug in a maintenance setting has been explored.
The QUAZAR AML-001 study was a randomized controlled trial of CC-486 versus placebo for patients older than 55 years of age who reached CR after induction cytotoxic chemotherapy, but were within 90 days of achieving CR. Given this 90-day restriction (and later amended to 120 days), the average number of consolidation cycles was only 1.0.
While overall survival was no different between the arms, the median overall survival (mOS) was superior for the patients treated with CC-486 (hazard ratio 0.69). Thus, QUAZAR provides the first clear maintenance use for DNMTi in AML in the post-cytotoxic therapy setting. The role of CC-486 in MDS or otherwise in AML (e.g., in de novo disease or relapsed/refractory setting) is yet to be explored.
VEN, an oral selective inhibitor of BCL2, in combination with parenteral DNMTi or low-dose cytarabine (LDAC) for older patients with AML led to striking improvements in remission rates. The approval of VEN when given together with DNMTi or LDAC in AML is based on phase Ib studies which revealed CRs/CR with incomplete count recovery (CRi) in 50–70% of patients over 65 years of age who were deemed to not be candidates for standard cytotoxic induction chemotherapy [19, 22, 23].
The historical mOS for AML in patients over 65 years was measured in months, so VEN-based therapy is quickly becoming part of a changing paradigm in the treatment of AML. To this end, as proof of principle, we tested the all-oral VEN + AZA + CDZ combination in an AML PDX model, and found it tolerable and effective in eliminating the AML.
These findings are consistent with the ability to induce meaningful remissions in AML with all-oral VEN-based therapies, and as VEN + DNMTi therapy is evolving to the standard of care, preclinical signals of activity with oral analogs is necessary prior to clinical trials testing this combination.
AZA and DEC are cornerstones in the treatment of myeloid malignancies, but the daily parenteral treatment in the cancer clinic utilizes considerable resources and places potential undue burden on the patients who are committed to this therapy until toxicity or progression of disease. Oral analogs are critical advances, and learning how to best use these compounds is a priority.
ASTX727 (DEC + CDZ) has been shown to be largely equivalent to DEC in randomized bioequivalence studies, and CC-486 (oral AZA) improves mOS if used for maintenance after cytotoxic chemotherapy-induced CR in older patients. These advances should be woven into standard practice, and the capacity to emulate AZA PK/PD and clinical efficacy in MDS and AML can be tested with AZA + CDZ. This is the first preclinical evaluation of oral AZA with CDZ, and these preliminary data provide rationale for the development of oral AZA + CDZ therapy as a FDC (ASTX030) for myeloid disease.
References
1. Lyons RM, Cosgriff TM, Modi SS, Gersh RH, Hainsworth JD, Cohn AL, et al. Hematologic response to three alternative dosing schedules of azacitidine in patients with myelodysplastic syndromes. J Clin Oncol. 2009;27(11):1850–1856. doi: 10.1200/JCO.2008.17.1058. [PubMed] [CrossRef] [Google Scholar]
2. Fenaux P, Mufti GJ, Hellstrom-Lindberg E, Santini V, Finelli C, Giagounidis A, et al. Efficacy of azacitidine compared with that of conventional care regimens in the treatment of higher-risk myelodysplastic syndromes: a randomised, open-label, phase III study. Lancet Oncol. 2009;10(3):223–232. doi: 10.1016/S1470-2045(09)70003-8. [PMC free article] [PubMed] [CrossRef] [Google Scholar]
3. Fenaux P, Mufti GJ, Hellstrom-Lindberg E, Santini V, Gattermann N, Germing U, et al. Azacitidine prolongs overall survival compared with conventional care regimens in elderly patients with low bone marrow blast count acute myeloid leukemia. J Clin Oncol. 2010;28(4):562–569. doi: 10.1200/JCO.2009.23.8329. [PubMed] [CrossRef] [Google Scholar]
4. Silverman LR, Demakos EP, Peterson BL, Kornblith AB, Holland JC, Odchimar-Reissig R, et al. Randomized controlled trial of azacitidine in patients with the myelodysplastic syndrome: a study of the cancer and leukemia group B. J Clin Oncol. 2002;20(10):2429–2440. doi: 10.1200/JCO.2002.04.117. [PubMed] [CrossRef] [Google Scholar]
5. Groeger JS, Lucas AB, Thaler HT, Friedlander-Klar H, Brown AE, Kiehn TE, et al. Infectious morbidity associated with long-term use of venous access devices in patients with cancer. Ann Intern Med. 1993;119(12):1168–1174. doi: 10.7326/0003-4819-119-12-199312150-00003. [PubMed] [CrossRef] [Google Scholar]
6. Kogan AJ, Dunn JD. Myelodysplastic syndromes: health care management considerations. Manag Care. 2009;18(11 Suppl 9):25–28. [PubMed] [Google Scholar]
7. Nabhan C, Radhakrishnan A. Aplastic anemia surfacing after treatment of acute promyelocytic leukemia: the Dameshek riddle. Clin Adv Hematol Oncol. 2009;7(10):672–674. [PubMed] [Google Scholar]
8. Ishitobi M, Shibuya K, Komoike Y, Koyama H, Inaji H. Preferences for oral versus intravenous adjuvant chemotherapy among early breast cancer patients. Patient Prefer Adherence. 2013;7:1201–1206. doi: 10.2147/PPA.S52687. [PMC free article] [PubMed] [CrossRef] [Google Scholar]
9. Liu G, Franssen E, Fitch MI, Warner E. Patient preferences for oral versus intravenous palliative chemotherapy. J Clin Oncol. 1997;15(1):110–115. doi: 10.1200/JCO.1997.15.1.110. [PubMed] [CrossRef] [Google Scholar]
10. Mahfouz RZ, Jankowska A, Ebrahem Q, Gu X, Visconte V, Tabarroki A, et al. Increased CDA expression/activity in males contributes to decreased cytidine analog half-life and likely contributes to worse outcomes with 5-azacytidine or decitabine therapy. Clin Cancer Res. 2013;19(4):938–948. doi: 10.1158/1078-0432.CCR-12-1722. [PMC free article] [PubMed] [CrossRef] [Google Scholar]
11. Garcia-Manero G, Gore SD, Cogle C, Ward R, Shi T, Macbeth KJ, et al. Phase I study of oral azacitidine in myelodysplastic syndromes, chronic myelomonocytic leukemia, and acute myeloid leukemia. J Clin Oncol. 2011;29(18):2521–2527. doi: 10.1200/JCO.2010.34.4226. [PMC free article] [PubMed] [CrossRef] [Google Scholar]
12. Savona MR, Kolibaba K, Conkling P, Kingsley EC, Becerra C, Morris JC, et al. Extended dosing with CC-486 (oral azacitidine) in patients with myeloid malignancies. Am J Hematol. 2018;93(10):1199–1206. doi: 10.1002/ajh.25216. [PMC free article] [PubMed] [CrossRef] [Google Scholar]
13. Garcia-Manero G, Scott BL, Cogle CR, Boyd TE, Kambhampati S, Hetzer J, et al. CC-486 (oral azacitidine) in patients with myelodysplastic syndromes with pretreatment thrombocytopenia. Leuk Res. 2018;72:79–85. doi: 10.1016/j.leukres.2018.08.001. [PubMed] [CrossRef] [Google Scholar]
14. de Lima M, Oran B, Champlin RE, Papadopoulos EB, Giralt SA, Scott BL, et al. CC-486 maintenance after stem cell transplantation in patients with acute myeloid leukemia or myelodysplastic syndromes. Biol Blood Marrow Transplant. 2018;24(10):2017–2024. doi: 10.1016/j.bbmt.2018.06.016. [PubMed] [CrossRef] [Google Scholar]
15. Molokie R, Lavelle D, Gowhari M, Pacini M, Krauz L, Hassan J, et al. Oral tetrahydrouridine and decitabine for non-cytotoxic epigenetic gene regulation in sickle cell disease: a randomized phase 1 study. PLoS Med. 2017;14(9):e1002382. doi: 10.1371/journal.pmed.1002382. [PMC free article] [PubMed] [CrossRef] [Google Scholar]
16. Savona MR, Odenike O, Amrein PC, Steensma DP, DeZern AE, Michaelis LC, et al. An oral fixed-dose combination of decitabine and cedazuridine in myelodysplastic syndromes: a multicentre, open-label, dose-escalation, phase 1 study. Lancet Haematol. 2019;6(4):e194–e203. doi: 10.1016/S2352-3026(19)30030-4. [PubMed] [CrossRef] [Google Scholar]
17. Garcia-Manero G, McCloskey J, Griffiths E, Yee K, et al. Pharmacokinetic exposure equivalence and preliminary efficacy and safety from a randomized cross over phase 3 study (ASCERTAIN study) of an oral hypomethylating agent ASTX727 (cedazuridine/decitabine) compared to IV decitabine. Oral Presented at: American Society of Hematology Annual Meeting. 2019; December 9, 2019.
18. Yang AS, Doshi KD, Choi SW, Mason JB, Mannari RK, Gharybian V, et al. DNA methylation changes after 5-aza-2′-deoxycytidine therapy in patients with leukemia. Cancer Res. 2006;66(10):5495–5503. doi: 10.1158/0008-5472.CAN-05-2385. [PubMed] [CrossRef] [Google Scholar]
19. DiNardo CD, Pratz KW, Letai A, Jonas BA, Wei AH, Thirman M, et al. Safety and preliminary efficacy of venetoclax with decitabine or azacitidine in elderly patients with previously untreated acute myeloid leukaemia: a non-randomised, open-label, phase 1b study. Lancet Oncol. 2018;19(2):216–228. doi: 10.1016/S1470-2045(18)30010-X. [PubMed] [CrossRef] [Google Scholar]
20. Babiker HM, Milhem M, Aisner J, Edenfield W, Shepard D, Savona M, et al. Evaluation of the bioequivalence and food effect on the bioavailability of CC-486 (oral azacitidine) tablets in adult patients with cancer. Cancer Chemother Pharmacol. 2020;85(3):621–626. doi: 10.1007/s00280-020-04037-9. [PMC free article] [PubMed] [CrossRef] [Google Scholar]
21. Laille E, Shi T, Garcia-Manero G, Cogle CR, Gore SD, Hetzer J, et al. Pharmacokinetics and pharmacodynamics with extended dosing of CC-486 in patients with hematologic malignancies. PLoS One. 2015;10(8):e0135520. doi: 10.1371/journal.pone.0135520. [PMC free article] [PubMed] [CrossRef] [Google Scholar]
22. DiNardo CD, Pratz K, Pullarkat V, Jonas BA, Arellano M, Becker PS, et al. Venetoclax combined with decitabine or azacitidine in treatment-naive, elderly patients with acute myeloid leukemia. Blood. 2019;133(1):7–17. doi: 10.1182/blood-2018-08-868752. [PMC free article] [PubMed] [CrossRef] [Google Scholar]
23. Wei AH, Strickland SA, Jr, Hou JZ, Fiedler W, Lin TL, Walter RB, et al. Venetoclax combined with low-dose cytarabine for previously untreated patients with acute myeloid leukemia: results from a phase Ib/II study. J Clin Oncol. 2019;37(15):1277–1284. doi: 10.1200/JCO.18.01600. [PMC free article] [PubMed] [CrossRef] [Google Scholar]
reference link:https://www.ncbi.nlm.nih.gov/pmc/articles/PMC7182630/
---
More information: New England Journal of Medicine (2020). DOI: 10.1056/NEJMoa2004444