North Korea's military is "examining the operational plan" to strike areas around the US territory of Guam with medium-to-long-range strategic ballistic missiles, state-run news agency KCNA said early Wednesday local time.
Specifically, the statement mentioned a potential strike on Andersen Air Force Base designed "to send a serious warning signal to the US."
The base is one of two on the Pacific island, which are the closest bases on US soil to North Korea, and represent the westernmost tip of the country's military might.
The North Korea comments were published after US President Donald Trump warned Pyongyang that if it continued to threaten the US, it would "face fire and fury like the world has never seen."
An attack on Guam will be considered an attack on the United States, Guam's governor warned in response to a threat that North Korea would create an "enveloping fire" around the US territory.
The people of Guam woke up on Thursday to another pointed threat from Pyongyang, which vowed to complete a plan to attack waters near the island by mid-August.
However, Guam's governor Eddie Calvo warned North Korea's leadership that targeting the territory would be considered an attack on the US.
"Any type of attack will not be successful but at the same time an attack on Guam will be considered attack on United States and will be met with an overwhelming force," Calvo told to a reporter.
While some residents of Guam say they are confident the US military will protect them if North Korea attacks, others are discussing emergency plans with their families.
"It's actually been scary since yesterday," Kate Quiambao, resident of Guam, said.
"Right now, I'm planning with my family what are we going to be doing from here on. We're trying to plan out if there's going to be an emergency and things like that."
The US military on Guam consists of two bases home to 7,000 troops – Andersen Air Force Base in the north and Naval Base Guam in the south.
"I feel that the presence of the military on Guam will help us a lot," said Virgie Matson, 51, a resident of Dededo, Guam's most populated village.
"They are here to protect the islands, just in case something happens."
Mixed messages
The Trump administration officials delivered mixed messages of alarm and reassurance as tensions have escalated over North Korea's nuclear weapons programme, leaving doubt about the direction of US policy.
Serge Bloh, a Guam resident believes Trump's reply has escalated the already tensed situation with North Korea.
"How Trump replied to it, I think it really infuriated North Korea, honestly. But we'll see what's gonna happen next," he said.
Despite the military presence and service, some Guamanian feel unprotected and insecure in this time of crisis.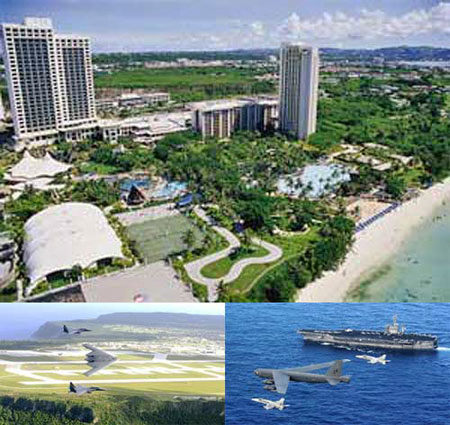 "What about all those who don't have any protection to help them? I just don't agree with this, it is scary." Lou Meno said.
For years, North Korea has claimed Guam is within its missiles' striking distance, making furious statements each time when the US flew powerful bombers from the island's air base to the Korean Peninsula.
"We have little kids that they don't know what's going on, and what is the president doing to protect us? I blame him [Trump]," Meno said.
Defensive shield
Guam's Homeland Security Advisor George Charfauros told CNN that despite Guam's strategic importance and the North Korean threats to strike it, he remains confident of the island's defenses.
"They've slowly developed their capabilities but we stand in high confidence with the US (Defense Department's) ability to not only defend Guam and the surrounding areas but also the continental US…
There are several layers of ballistic missile defense."
One of these systems, he said, is THAAD, the Terminal High Altitude Area Defense system, which is designed to shoot down short, medium and intermediate ballistic missiles.
"Two years ago a permanent deployment of that missile system was placed on Guam," he said.
He added that the US "routinely uses" Aegis-equipped warships around the island chain of the Marianas, of which Guam is the largest.
The US Department of Defense reiterated its capability to counter North Korean aggression.
"We always maintain a high state of readiness and have the capabilities to counter any threat, to include those from North Korea," spokesman Johnny Michael told CNN.