An ad featuring Ron Reagan, son of the Republican former President Ronald Reagan, surprised some viewers of the recent Democratic primary debates.
In the 30-second spot, run by the Freedom from Religion Foundation, Reagan expressed concern that religious beliefs have gained too much political influence in the United States.
Reagan signed off by describing himself as a "lifelong atheist, not afraid of burning in hell."
Reagan's detractors expressed alarm. They were concerned that an "unabashed atheist" – a person who lacks belief in a god or gods – could speak so bluntly on national television.
And the ad inspired some strong reactions, with some major networks even banning it from the airwaves. And perhaps that should be unsurprising.
Research shows there is intense prejudice against atheists in the U.S. Of the approximately 25% proportion of the U.S. population who do not identify as religious, a little over 3% identify specifically as atheists, although, some researchers claim the actual number might even be as high as 20%.
What's behind such distrust?
Prejudice toward atheists
Because of this prejudice, people might be reluctant to identify themselves as atheists, even on anonymous questionnaires.
Research shows that atheists are trusted less than religious people.
In fact, even atheists trust their fellow atheists less than religious people.
And until recently, a majority of Americans believed that atheists are not moral.
University of Kentucky scholar Will Gervais and colleagues have found that people in several countries even tend to associate serial murder with atheism, relative to religious belief.
Social psychologists have spent years examining what causes some people to have negative feelings, thoughts and behavior toward atheists. Some work argues, for example, that atheists are disliked because they remind religious believers of their inevitable mortality.
That is, atheists deny the existence of an afterlife. When reminded of death, this theory suggests, religious people respond with increased prejudice toward atheists.
Our 2018 study on the prejudices that religious believers hold against atheists, conducted along with our colleagues at Arizona State University, examined one previously unexplored cause of atheist prejudice: perceptions of their sexual behavior.
Religious people and values
Evidence suggests that religion and sexual behavior are often linked. 
Many major religions, such as Christianity, Judaism, Islam and some traditional religions, promote lifestyles emphasizing fidelity and underscoring the importance of caring for one's family.
And a large body of research suggests that such religions may be especially attractive to people who value such commitments – perhaps precisely because those religions help to reinforce their own lifestyle choices.
This is not to say that all sexually committed people are religious or vice versa. Rather, this seems to be a stereotype. For example, many atheists are married, and around 40% have young children.
Still, knowing the perceived connection between faith and sexual commitment, we suspected that people may see atheists, relative to believers, as less likely to endorse values like monogamy and caring for one's family – values associated with being sexually committed.
Some researchers believe atheists are disliked because people link their lack of belief to an overall lack of values.
In such people's minds, sexually uncommitted behavior is linked to several other traits and social behavior, such as opportunism and being impulsive – traits that hardly inspire trust. So we reasoned that people's stereotypes of atheists as being sexually uncommitted were the root cause of distrust of atheists.

Distrust of uncommitted partners?
To test this, we recruited 336 participants from the U.S. to complete an online experiment. They were randomly assigned to rate one of two detailed dating profiles. These two profiles differed only in whether the person profiled identified as religious or nonreligious.
We found that participants made inferences about the person in the profile based solely on religiosity. First, and consistent with past research, the nonreligious person was trusted less than the religious person.
Second, supporting our theory, the nonreligious person was rated as less likely to have committed lifestyle. For example, compared to the religious profile, people viewed the nonreligious one as less of a "faithful romantic partner" and less of a "dedicated" parent.
To determine whether this inference that atheists are sexually uncommitted actually caused distrust, we conducted a second experiment. We recruited 445 U.S. participants and showed them the same profiles, but with one additional piece of information: The person in the profile was also described as keen to either "get married" or "play the field."
Adding this scant bit of information about sexual behavior – "dating preferences" – was enough to override the assumptions people made about atheists.
Atheists who wanted to "get married" were thought to be just as trustworthy as religious people, and they were thought to be even more trustworthy than religious people who wanted to "play the field."
Statistically, a person's dating preferences explained approximately 19.7% of participants' trustworthiness ratings – a fairly large effect for social sciences. By contrast, the person's religiosity explained less than 1%.
Notably, religious participants did not evaluate the religious profile more favorably, suggesting that even religious folks are swayed more by someone's sexual behavior than that person's religiosity.
---
The religious landscape of the United States continues to change at a rapid clip. In Pew Research Center telephone surveys conducted in 2018 and 2019, 65% of American adults describe themselves as Christians when asked about their religion, down 12 percentage points over the past decade. Meanwhile, the religiously unaffiliated share of the population, consisting of people who describe their religious identity as atheist, agnostic or "nothing in particular," now stands at 26%, up from 17% in 2009.
Both Protestantism and Catholicism are experiencing losses of population share. Currently, 43% of U.S. adults identify with Protestantism, down from 51% in 2009. And one-in-five adults (20%) are Catholic, down from 23% in 2009. Meanwhile, all subsets of the religiously unaffiliated population – a group also known as religious "nones" – have seen their numbers swell. Self-described atheists now account for 4% of U.S. adults, up modestly but significantly from 2% in 2009; agnostics make up 5% of U.S. adults, up from 3% a decade ago; and 17% of Americans now describe their religion as "nothing in particular," up from 12% in 2009. Members of non-Christian religions also have grown modestly as a share of the adult population.
These are among the key findings of a new analysis of trends in the religious composition and churchgoing habits of the American public, based on recent Pew Research Center random-digit-dial (RDD) political polling on the telephone.1 
The data shows that the trend toward religious disaffiliation documented in the Center's 2007 and 2014 Religious Landscape Studies, and before that in major national studies like the General Social Survey (GSS), has continued apace.
Pew Research Center's 2007 and 2014 Religious Landscape Studies were huge national RDD surveys, each of which included interviews with more than 35,000 respondents who were asked dozens of detailed questions about their religious identities, beliefs and practices.
The Center has not yet conducted a third such study, and when the Landscape Study is repeated, it is likely to use new methods that may prevent it from being directly comparable to the previous studies; growing challenges to conducting national surveys by telephone have led the Center to rely increasingly on self-administered surveys conducted online.2
But while no new Religious Landscape Study is available or in the immediate offing, the Center has collected five additional years of data (since the 2014 Landscape Study) from RDD political polls (see detailed tables).
The samples from these political polls are not as large as the Landscape Studies (even when all of the political polls conducted in a year are combined), but together, 88 surveys from 2009 to 2019 included interviews with 168,890 Americans.
These surveys do not include nearly as many questions about religion as the Landscape Studies do. However, as part of the demographic battery of questions that ask respondents about their age, race, educational attainment and other background characteristics, each of these political polls also include one basic question about religious identity – "What is your present religion, if any? Are you Protestant, Roman Catholic, Mormon, Orthodox such as Greek or Russian Orthodox, Jewish, Muslim, Buddhist, Hindu, atheist, agnostic, something else, or nothing in particular?"
Additionally, most of these political polls include a question about religious attendance – "Aside from weddings and funerals, how often do you attend religious services? More than once a week, once a week, once or twice a month, a few times a year, seldom, or never?" Taken together, these two questions (one about religious identity, the other about religious attendance) can help shed light on religious trends in the U.S.
The data shows that just like rates of religious affiliation, rates of religious attendance are declining.3 Over the last decade, the share of Americans who say they attend religious services at least once or twice a month dropped by 7 percentage points, while the share who say they attend religious services less often (if at all) has risen by the same degree.
In 2009, regular worship attenders (those who attend religious services at least once or twice a month) outnumbered those who attend services only occasionally or not at all by a 52%-to-47% margin. Today those figures are reversed; more Americans now say they attend religious services a few times a year or less (54%) than say they attend at least monthly (45%).
The changes underway in the American religious landscape are broad-based. The Christian share of the population is down and religious "nones" have grown across multiple demographic groups: white people, black people and Hispanics; men and women; in all regions of the country; and among college graduates and those with lower levels of educational attainment. Religious "nones" are growing faster among Democrats than Republicans, though their ranks are swelling in both partisan coalitions.
And although the religiously unaffiliated are on the rise among younger people and most groups of older adults, their growth is most pronounced among young adults.
Furthermore, the data shows a wide gap between older Americans (Baby Boomers and members of the Silent Generation) and Millennials in their levels of religious affiliation and attendance. More than eight-in-ten members of the Silent Generation (those born between 1928 and 1945) describe themselves as Christians (84%), as do three-quarters of Baby Boomers (76%). In stark contrast, only half of Millennials (49%) describe themselves as Christians; four-in-ten are religious "nones," and one-in-ten Millennials identify with non-Christian faiths.
Only about one-in-three Millennials say they attend religious services at least once or twice a month. Roughly two-thirds of Millennials (64%) attend worship services a few times a year or less often, including about four-in-ten who say they seldom or never go. Indeed, there are as many Millennials who say they "never" attend religious services (22%) as there are who say they go at least once a week (22%).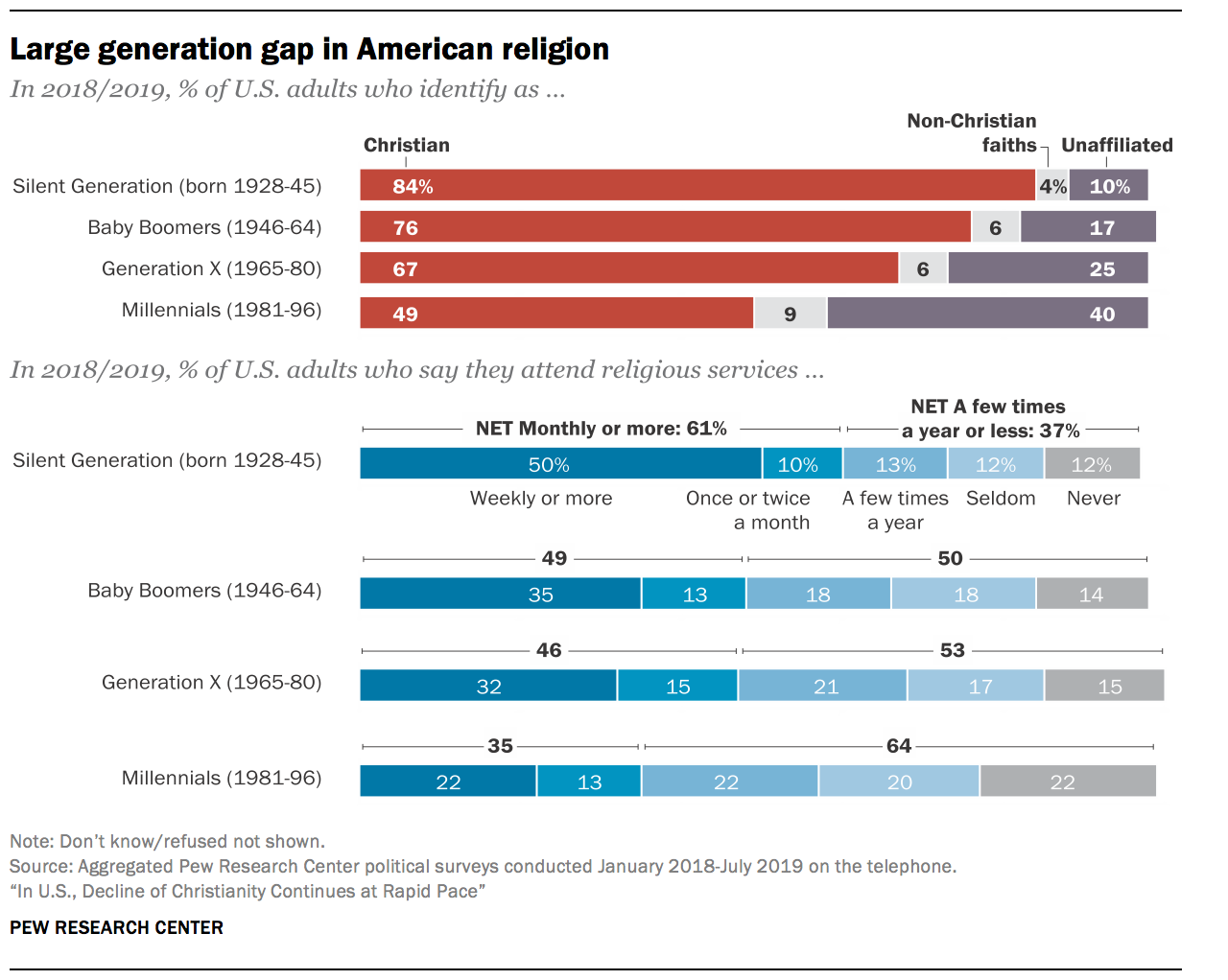 While the trends are clear – the U.S. is steadily becoming less Christian and less religiously observant as the share of adults who are not religious grows – self-described Christians report that they attend religious services at about the same rate today as in 2009. Today, 62% of Christians say they attend religious services at least once or twice a month, which is identical to the share who said the same in 2009.
In other words, the nation's overall rate of religious attendance is declining not because Christians are attending church less often, but rather because there are now fewer Christians as a share of the population.
Other key takeaways from the new analysis include:
Today, there are roughly 23 million more adults in the U.S. than there were in 2009 (256 million as of July 1, 2019, according to the Census Bureau). About two-thirds of them (65%) identify as Christians, according to 2018 and 2019 Pew Research Center RDD estimates. This means that there are now roughly 167 million Christian adults in the U.S. (with a lower bound of 164 million and an upper bound of 169 million, given the survey's margin of error).
Meanwhile, the number of religiously unaffiliated adults in the U.S. grew by almost 30 million over this period.
The point estimates from the GSS and Pew Research Center surveys (that is, the share of adults who identify as Protestant or Catholic or as religious "nones") are not directly comparable; the two studies ask different questions and employ different modes of survey administration. But the fact that the direction of the trend is similar in both studies strongly suggests that both are picking up on real and significant change underway in the U.S. religious landscape.
These findings about the religious composition of Hispanics closely resemble those from Pew Research Center's National Surveys of Latinos (NSL) – a nationally representative survey of U.S. Latino adults fielded almost every year. (See the detailed tables for complete trends in the religious composition of Hispanics based on both Pew Research Center political surveys and the NSL.)
For complete information about trends in the religious composition and worship attendance habits of the U.S. public, see detailed tables.
---
Source:
The Conversation
Media Contacts:
Jordan W. Moon & Jaimie Arona Krems – The Conversation