AT least five people have been arrested and a further 20 taken into custody following a rally by the Nazi Nordic Council of Resistance in Stockholm.
At midday, it was reported that 600 neo-Nazis had began their march to the city's Parliament – which would make it the biggest demonstration by the extremists in Scandanavia for years.
The group were met by anti-racism protestors, who they have previously clashed with, as they charged through the Old Town in Sweden's capital.
The counter-demonstrators began throwing eggs, stones, snowballs and flares at the police, who were preventing them from getting through to the right-wing march.
At least one police officer sustained injuries, and several people were taken away from the scenes in ambulances.
The far right radicals marched through the streets chanting slogans "Nordic revolution without mercy," "enough is enough!"and "stop the invasion, repatriate!" apparently referring to the massive refugee influx to Sweden.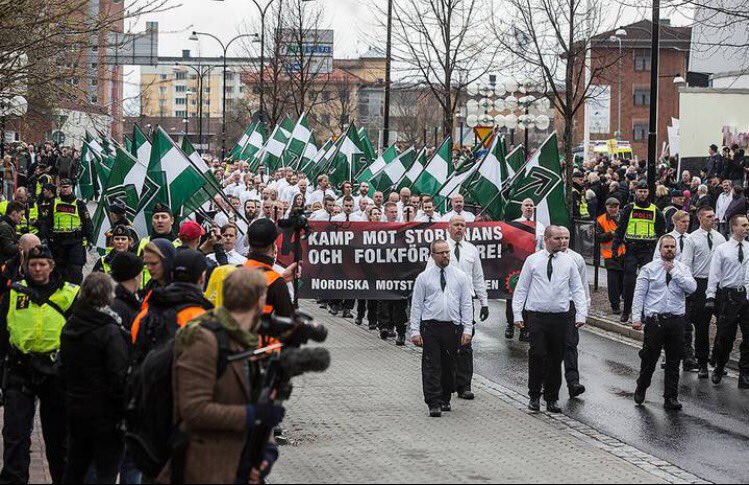 A much bigger demonstration, which, according to police, was attended by about 5,000 people, was staged at Sergel Square, north of the city center.
Police spokesperson Lars Bystom said that the exact number of detainees remains unclear, but guessed "we have suspended or removed 50".
Hundreds of people were involved in the protest
Also taking part in the rally were a group of Norwegian neo-Nazis who last month told a Scandanavian news channel that they were fighting for the survival and freedom of the Nordic People.
They added that they did not believe the Holocaust had happened, and that they considered Hitler to be a role model.
Stones and flares were thrown at the police during the demonstration in Stockholm
The violence at the protests was anticipated, with the American Embassy this morning warning any of its citizens in Stockholm to avoid large crowds.
Some areas were also closed off, affecting traffic and public transport around the city.