China gives rivals glimpse of its latest tactical weaponry at Zhuhai air show
PLA's 609 intelligence radar and CM-401 anti-ship missile are put on display for the first time
Both indicate China's readiness to deter threats in the East and South China Seas, experts say
China has unveiled two of its latest sophisticated tactical weapon systems at the country's biggest air show, in a move a military experts said was aimed at deterring rivalries in the East and South China Seas.
The exported versions of the 609 intelligence radar and CM-401 anti-ship missile, which are serving in the People's Liberation Army (PLA) in border and coast defence, are on display for the first time at this week's Airshow China in Zhuhai, in the southern province of Guangdong.
The 609 intelligence radar is able to detect long-range early warning of stealth aircraft such as the US F-35, tactical ballistic missiles, and targets close to space, according to its developer, the 14th Institute of the China Electronic Technology Group Corporation (CETC).
Hong Kong-based military expert Song Zhongping said that the 609 radar was an important part of China's comprehensive anti-stealth and anti-ballistic missile systems, which could be integrated into the PLA's air and sea combat systems to form a powerful air-to-air and air-to-sea defence network.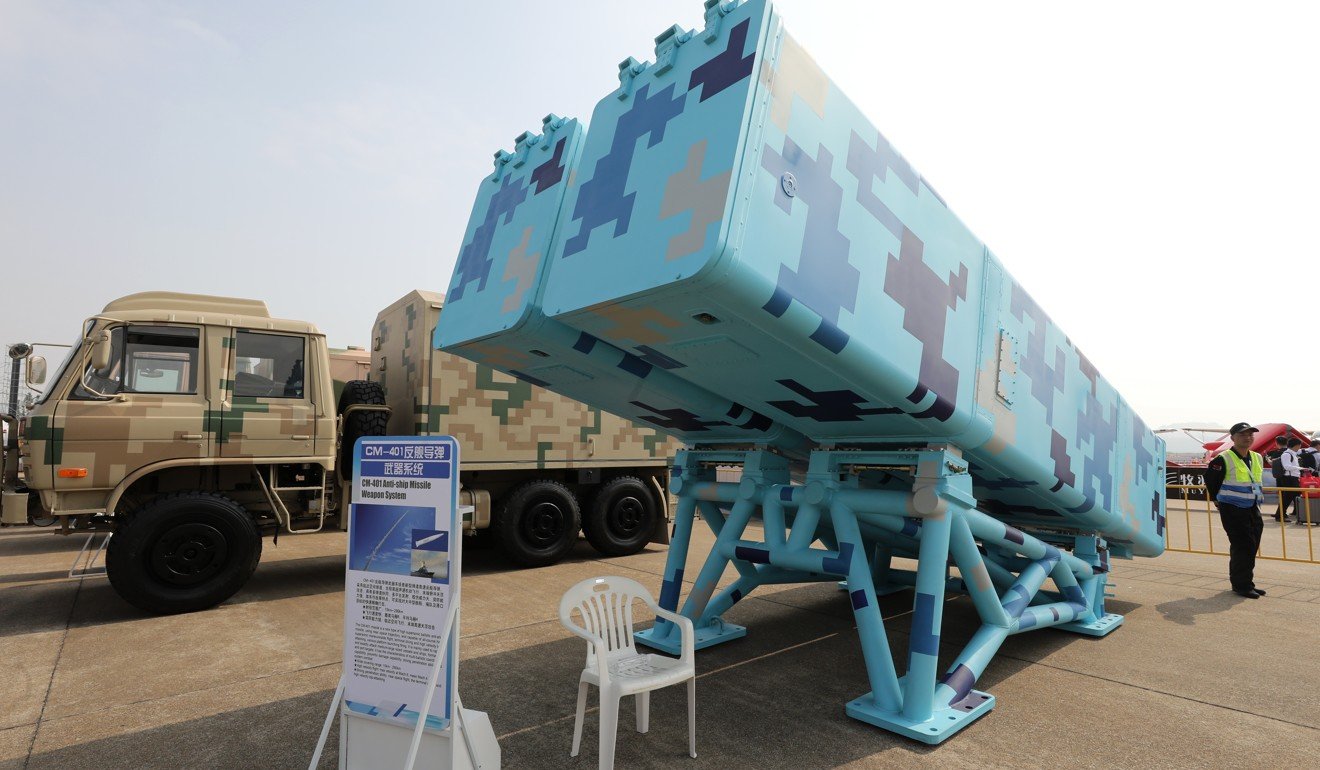 "The CM-401 system is actually an anti-ship ballistic missile modified from a tactical missile defence system," said Song, a military commentator for Hong Kong's Phoenix Television.
"It is able to destroy fixed targets on land or moving targets on sea, including medium-to-large warships."
The two weapons systems need to operate with the support of many other types of multifunctional radar systems with different altitude and range capabilities, he added.
"The PLA is using advanced versions of the 609 radar and CM-401 systems, and most of them were deployed to northeast Asia and the East China Sea, where China is facing threats of nuclear weapons and stealth aircraft," Song said.
The nuclear threat has been a long-standing security issue in northeast Asia since North Korea began developing nuclear weapons in the 1990s. This also pushed the United States to deploy its F-35 stealth fighters to its military bases in South Korea and Japan this year.
China has a territorial dispute with Japan over the Diaoyu Islands – which Japan calls the Senkakus – in the East China Sea.
Beijing-based military expert Zhou Chenming said the public debut of the two weapon systems was about showing a deterrent to China's rivals in the region, especially the US.
"The 609 might be the biggest threat China wants to show to its US counterparts," Zhou said.
"Some of the sophisticated weapons Beijing is showing at the air show are for foreign military attaches and insiders based in China, who are keen on spying on China's military intelligence, not for the common audience and military enthusiasts."
Another senior official from the CETC's 38th Institute, which also developed radars to detect stealth aircraft, said some of its radar systems had been deployed to coastal areas on the East China Sea and artificial islands in the South China Sea, where China has a territorial dispute with Vietnam, the Philippines and other Asian neighbours.
"Radar systems deployed to the South China Sea islands need more protection because of the high temperature, salinity and humidity, which is costly," said the senior official, who requested anonymity.
The cost of the CM-401 anti-ship missile and the 609 radar system is not clear, but Zhu Xinfeng, a radar designer from the 14th Institute, said the export price of the SLC-7 – a multifunctional phased array radar system that also can detect stealth aircraft from 450km – was close to 200 million yuan (US$28.9 million).
Macau-based military observer Antony Wong Dong said 200 million yuan was roughly the export price of a J-11 fighter jet, adding that Chinese sophisticated weapons were no longer cheaper, because Beijing was narrowing the gap with its Western counterparts.
"China's radar technology surpassed Russia and is catching up with the US," Wong said. "The Zhuhai air show is also a battleground of psychological warfare for the PLA to show its hardware build-up to outside world."
China's defence-related developers, too, used the biennial air show as a platform, to show their professional and improving after-sale services to potential clients.
For example, the 14th Institute displayed an active phased array airborne early warning (AEW) radar which it calls the Silk Road Eye, which will be used on a modified version of the DZK-03 Airborne Warning and Control System (AWAC) that Pakistan bought from China for its air force in the 2000s.
The Silk Road Eye, a new device to promote China's "Belt and Road Initiative", was tailor-made for Pakistan. "None of China's AWACs used by the PLA air force use that kind of device," said a member of staff from the 14th Institute. "It can scan and take pictures by making 360-degree rotations."
The institute also developed an airborne active phase fire control radar system for the Pakistan air force's JF-17 Thunder, a lightweight, single-engine multi-role fighter jet that was jointly developed by China and Pakistan.
Airshow China-2018 – New Missiles Unveiled at Airshow China 2018
A8-TG680 transportable air defense radar system associated. Photo: Huanqui
The land-based launch vehicle for the CM-401 hypersonic anti-ship missile system. The CM-401 is thought to be a modified anti-ship version based on the BP-12A tactical ballistic missile. The missile achieves high supersonic speed and its ship killing accuracy is derived by the integral active radar used in the terminal phase of the flight. This missile is used mainly to attack medium-to-large-sized ships, including aircraft carriers.