A four-meter "anti-intrusion" wall to stop migrants from jumping into trucks on the way from France to the UK has been completed, less than two months after the notorious 'Jungle' camp was dismantled.
The wall has been built along a kilometer-long part of the main road leading to the Calais port, near the former camp area.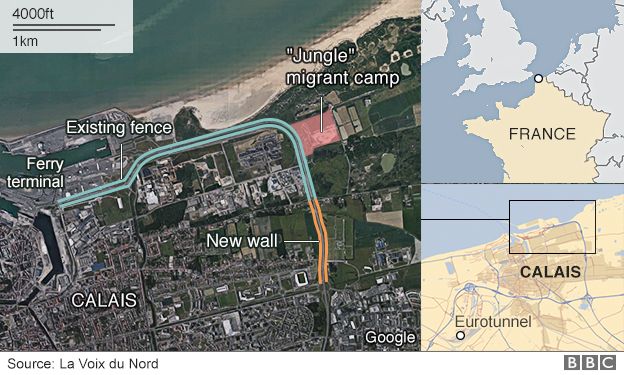 The wall is said to have cost 2.7 million euros (about $3 million), and its primary goal is to thwart migrants from going to the UK, mainly on trucks.
The structure, financed by the British government, is now complete, a spokesman for the local prefecture told AFP late Monday.

Construction on the wall started back in September, and a month later the infamous 'Jungle' camp was taken down.
"It is an extremely important tool, it shows that the highway is secure,"Jean-Marc Puissesseau, CEO of the port of Boulogne-Calais, said at the end of November at a press conference, as cited by Le Monde.
The mayor of Calais, Natacha Bouchart, tried to halt construction, saying the wall would be of no use once the camp is destroyed.
At the end of November, a court rejected the municipality's request to suspend construction, noting that the inflow of migrants is not going to end "in short term."
Under these conditions, the wall could "prevent the potential intrusions" by securing road traffic, the court added.
France has recently attempted to cope with the inflow of migrants by offering 2,500 euros to migrants who return home voluntarily, with the proposal valid until December 31.
Amid the unprecedented influx of migrants, far-right tensions have flared in the country. In mid-November, for instance, about a hundred protesters attacked a migrant center in the French village of Arzon.