More than half of British people are unaware of the "forgotten war" underway in Yemen, despite the Government's support for a military coalition accused of killing thousands of civilians.
A YouGov poll seen exclusively by The Independent showed 49 per cent of people knew of the country's ongoing civil war, which has killed more than 10,000 people, displaced three million more and left 14 million facing starvation.
The figure was even lower for the 18 to 24 age group, where only 37 per cent were aware of the Yemen conflict as it enters its third year of bloodshed.
More than 2,100 people were given a list of 16 countries and asked to identify any "currently involved in an ongoing armed conflict" for the research, with 84 per cent naming the Syrian civil war.
The Human Appeal, a Manchester-based charity that commissioned the poll, warned a lack of international awareness was worsening a worsening humanitarian crisis in the Yemen.
"The crisis in Yemen has been forgotten about or ignored completely," said CEO Othman Moqbel.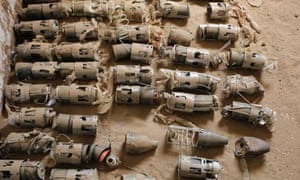 Some of the UK-manufactured cluster bomblets gathered in northern Yemen. Photograph: Amnesty International
"We believe this is because that the conflict has not generated a huge amount of refugees coming to Europe and there is the misperception amongst the public that it's only a regional crisis.
"To treat what is currently happening in Yemen, and has been happening for two years, as something insignificant is turning a blind eye to the escalating humanitarian emergency."
At least 75 people are estimated to be killed or injured every day in the conflict, which has pushed the country to the brink of famine as 14 million people lack a stable access to food.
Fewer than half of Yemen's health facilities are operational as aid agencies struggle to access war-torn regions with lifesaving medicine, and around 1,000 children die every week from preventable diseases like diarrhoea and respiratory infections.
Almost 3,800 civilians have been killed by the conflict, where President Abdrabbuh Mansour Hadi's government is fighting Houthi rebels and fighters loyal to the former President, President Ali Abdullah Saleh.
The conflict started in March 2015 after an opposition offensive drove the government out of the capital Sana'a, sparking an intervention by Saudi Arabia and its allies to support the internationally recognised government.
The UN human rights office said the Saudi-led air campaign, seeing rebel-controlled areas heavily bombarded, was responsible for 60 per cent of civilian deaths – almost 2,300 lives.
British-manufactured weapons, including cluster bombs, have been used in the strikes, despite calls by MPs to suspend sales to Saudi Arabia over war crimes allegations.
Peter Salisbury, a senior research fellow in the Middle East and North Africa programme at Chatham House, said Britain was the principal sponsor of a UN Security Council resolution used by Saudi Arabia to justify its intervention.
"The UK is also a huge arms supplier and provides a great deal of logistical support to Saudi forces," he told The Independent.
"Arguably the UK has also given political coverage to the Saudis by preventing various resolutions and investigations from happening."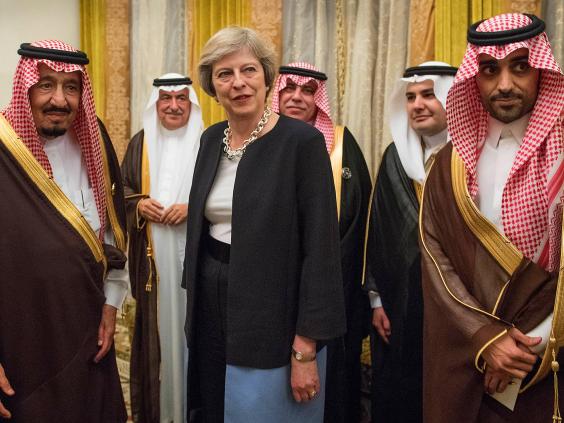 Mr Salisbury said that while opposing the attempted coup in Yemen, the British Government was "quiet" about the military overthrowing Egypt's elected government in 2013.
"The decision was made that Yemen was a 'bad coup'," he added. "And that in many ways comes down to where allies sit."
Iran supports Houthi forces in Yemen, with Saudi Arabia and other Gulf allies supporting the Hadi government.
As battles continue, the Human Appeal is among international charities attempting to provide aid to Yemen's impoverished population.
It has provided food parcels to thousands of families, clean drinking water for 37,500 people, blankets, clothing and healthcare projects including supporting the Al Jumhori public hospital.
Hundreds of Somali refugees who originally fled conflict in their home country are among those caught up in the violence in Yemen, with more than 40 massacred by a helicopter gunship as they attempted to flee on a boat on Thursday night.
While the humanitarian situation deteriorates, the conflict has largely reached a stalemate, with rebels controlling much of densely populated western Yemen, the Hadi government in the centre and east and pockets of territory held by al-Qaeda in the Arabian Peninsuala (AQAP), Islamist militias and Isis.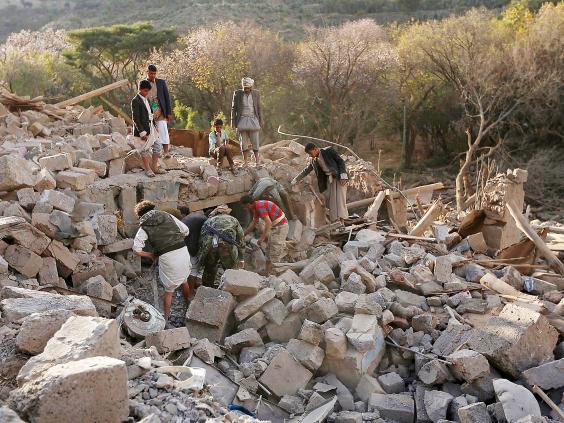 But the UN Refugee Agency has warned of intensified hostilities in recent weeks, forcing more than 62,000 people from their homes in western and central Yemen, who are now sleeping in public buildings, tents, on the streets or in ruined buildings.
Calling Yemen a "forgotten war", Mr Salisbury said neither a peaceful resolution nor an outright victory for any party was likely in the near future.
"The Trump presidency could see US play a more decisive role," he added, although American forces have mainly been targeting AQAP terrorists, including in a botched raid that killed dozens of civilians earlier this year.
"Yemen is not an island, it is connected to other countries and the rest of the world and we're seeing this massive growth in sectarian violence.
"All of these things have long-tern consequences for countries outside of Yemen."
The British Government stresses that although it the Saudi-led intervention "to deter aggression by the Houthis and allow for the return of the legitimate Yemeni Government", it is not part of the coalition.
"British personnel are not involved in carrying out strikes, directing or conducting operations in Yemen, nor involved in the Saudi targeting decision-making process," a spokesperson for the Foreign and Commonwealth Office told The Independent
"Peace talks are the top priority. The UK has played a leading role in diplomatic efforts, including bringing together key international actors to try and find a peaceful solution."
The UK is the fourth largest donor to Yemen, committing £103 million in humanitarian aid last year.